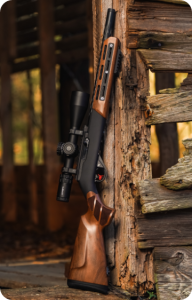 WOOX, producer of exceptional gear for the outdoorsman made in the U.S.A. and Italy, is pleased to announce immediate availability of it's latest precision chassis and stock, the Merica.
Encompassing the classic look and feel of wood with the advanced utility of America's most popular rifle, the Merica by WOOX is made from genuine American walnut and sports M-LOK® accessory panels and a QD sling loop. Aggressive checkering on the hand grip, a vented fore end and an aluminum chassis complete this attractive upgrade that also improves accuracy.
"The Merica is just what one expects from WOOX – traditional lines, gorgeous wood and functionality to suit every shooting style", said Chip Hunnicutt, VP Marketing for WOOX.
Merica is the latest precision shooting stock from WOOX, joining a world-class lineup that includes the Furiosa, Exactus, Cobra and Wild Man.
Merica is available now at $599 MSRP from wooxstore.com.
###
WOOX is an outdoor gear company headquartered in Hickory, North Carolina with a mission of manufacturing premium products for outdoor enthusiasts. Our brand is the wild child of Minelli Group, an Italian company started in 1937 and sought after the world over for expertise in craftsmanship and design. WOOX products are designed to perform using raw, natural material; superior technology throughout the supply chain and manufacturing; and materials sourced in a responsible, sustainable manner for the good of the planet. For dealer inquiries and to learn more about WOOX, visit wooxstore.com.