(Houston, TX- September 8, 2022) Houston Safari Club Foundation (HSCF) and "Hunting Matters" welcomes Mario Kalpou of Man Eats Wild.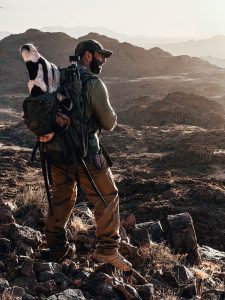 Mario Kalpou's lifelong fascination with nature's bounty took root at a young age. Australian born, as a youth Mario split his time between his father, a farmer in rural Sydney, and mother, a waitress at the Wentworth Hotel – where his maternal grandfather was a world-class chef in the '60s. Comfortable in both the field and kitchen, Kalpou soon set on a path to pursue his innate love of cooking working alongside prominent chefs and eventually opening and operating several highly acclaimed restaurants most notably, The Old Library, garnering various awards such as Zagat 3 Hats and 2nd place Belle Awards.
He deepened his love of harvesting from the wild and honed his already advanced outdoor skills when he traded the metropolitan restaurant world for rural New Zealand. Kalpou opened an extreme-adventure lodge and became a professional guide for overseas clients. During this time, he observed not only how being immersed in the outdoors positively affected each client but a realization that being connected to the source of free range, wild food echoed the interest of his chefs and patrons in the restaurant world. People want to feel connected to their food source and the inspiration for "Man Eats Wild" was born.
About Hunting Matters
Tune in to "Hunting Matters" with Houston Safari Club Foundation Executive Director Joe Betar as he engages in conversations with guests, from various backgrounds, who have a passion for hunting and conservation. Great discussions, news, hunting legislation updates and more! "Hunting Matters" airs each Saturday, 6am-7am CDT on KPRC AM 950 – Real Texas, Real Talk, a Houston iHeartMedia station, and Houston's longest running radio station. "Hunting Matters" is also available via podcast on Apple/iTunes, iHeartMedia, Google, Overcast, PodBean and Spreaker. Subscribe, listen and provide a review and rating. Hunting Matters is a 2022 Gold AVA Digital Award and 2022 NYX/Marcom Silver Award Winner.
About Houston Safari Club Foundation
Houston Safari Club Foundation (HSCF) is a 501(c)(3) non-profit organization whose mission is to preserve the sport of hunting through education, conservation, and the promotion of our hunting heritage. HSCF has awarded 646 scholarships totaling $2.92 million dollars. HSCF conducts youth outdoor education programs, career training, hunter education and field experiences throughout the year. HSCF has provided over $4 million in grants for hunter-funded wildlife, habitat, and various conservation initiatives. HSCF is an independent organization, is not affiliated with Safari Club International (SCI) or its affiliates and is not a chapter or affiliate of any other organization. Visit our website at wehuntwegive.org or call 713.623.8844 for more information. HSCF. We Hunt. We Give.
Joe Betar
joe@wehuntwegive.org
TEL: 713.623.8844
WeHuntWeGive.org