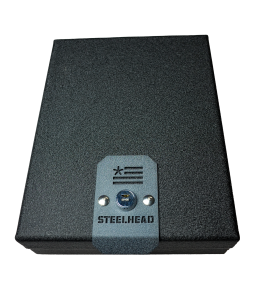 Portable Firearm Storage Units Are Made in America
Shakopee, MN (May 22, 2023 ) Steelhead Outdoors is proud to announce its American-Made, large HD Lockbox. Weighing in at over 11 pounds, it measures 8.5" wide x 11" long x 3" tall. Formed and welded from heavy duty 12-gauge steel makes the HD Lockbox 75-160% thicker than most competitors who manufacture overseas using 16–20-gauge steel. The HD Lockbox features a high-end key lock with a unique multi-sidebar arrangement that makes picking with traditional tools all but impossible. The lock has 6 billion key combinations and features a hardened drill-resistant body. This lock style is more secure and pick resistant than tubular and traditional wafer locks that are found on almost all other lockboxes. Steelhead engineers incorporated a double shear lock mechanism to provide increased pry support. Two keys are included.
Massive ¼"" hinges are staked, welded and feature an integrated pin guard to prevent punch attacks. Steelhead's hinges are twice as thick as most hinges. The HD Lockbox comes in a durable black textured powder coat finish with a charcoal grey handle. The lockbox bottom features two layers of 3/8" foam to fine tune the gun fitment, while the top includes thick, compressible convoluted foam to hold firearms firmly in place. The large size will accommodate a large handgun or two compact handguns.
The lockbox base features four holes to allow for anchoring. A cable accessory can be used to secure the lock box within a vehicle or other settings. The optional Steelhead 3' security cable accessory is American-made featuring a heavy duty ¼" 7×9 galvanized cable coated in nylon to 5/16" thick and rated to 6,000 lbs. The Steelhead cable is thicker than competitor cables and helps deter thieves. To provide universal attachment the cable has a loop on one end and a stopper button on the other end which attaches to the lockbox. Steelhead HD Lockbox retails for $190 with free shipping and the optional cable accessory retails for $25. Contact Steelhead for quantity pricing. Watch Handgun Safe Research's video to learn more during its deep dive into Steelhead's premium, heavy-duty lockbox.
Steelhead proudly makes its Made-in-USA weapon storage units including lockboxes in Shakopee, MN. In addition, Steelhead Outdoors offers modular gun safes, vault doors and custom weapon storage options for consumers and law enforcement.
"Our heavy-duty pistol lockboxes provide a portable option to keep firearms secure," explained Steelhead Outdoors Co-Founder Corey Meyer. "The Steelhead HD lock boxes feature thicker steel and premium locks for optimal security, even our cable is best-in-class."
Portable pistol lock boxes are relatively lightweight which makes them easy to transport and use in homes, vehicles and offices. Lock boxes help prevent accidental shootings and makes theft more difficult. A portable pistol lock box may also help a firearm owner comply with state or local laws regarding secure firearm storage. Peace of mind is an intangible, but it can be reassuring that a firearm is locked out of the reach of children, pets and unauthorized individuals. Firearms should be placed in locked storge and out of sight whenever a firearm isn't under the owner's control, according to National Shooting Sports Foundation literature.
Steelhead Outdoors recently introduced the stealthy, Made in America Recon 38 tactical safe. The Recon 38 modular gun safe offers storage for firearms and associated gear in a flat textured black finish with graphite colored logo and handle and custom blacked out hardware. This tactical package includes a custom bolt-on roof rack for stowing extra gear and range bags. The rack's raised perimeter helps keep items in place on top of the safe. The interior can be configured to hold from 10-35 long guns. Prices start at $4,400 USD.
Steelhead Outdoors offers three sizes of Nomad Series safes which feature many high-end security features expected in a premium gun safe. Prices start at $2,700. The patent-pending construction features a fully dry insulation system, eliminating the need for a dehumidifier. This system utilizes a radiant heat reflecting coating to reject incoming heat from entering the safe. The metal interior provides additional protection and is made from nearly 100 percent nonflammable materials. The panels are filled with ceramic fire insulation that is rated to 2300 degrees and is non-moisture trapping so it does not require the use of a dehumidifier and will not release steam into the safe in the event of a fire.
Steelhead Outdoors created its Homestead Vault Doors collection as an alternative to modular gun safes for people with large gun collections or who want to create a safe room in their home. Safe rooms aren't just for Hollywood celebrities and professional athletes. More people are incorporating safe rooms in their homes to protect their family and keep their valuables secure. Homestead Vault Doors start at $5,500.
Steelhead Outdoors Case Keeper and tactical roof rack accessory hooks expand storage options on the safe exterior. Steelhead Outdoors Gun Case Keeper is a great tool for hunters to help organize and store hunting gear. This magnetic accessory is designed to attach to the upper corner of a safe and can hold a maximum of 30 lbs. The adjustable system is capable of holding soft cases, game calls, rangefinders, optics or other items capable of hanging on a hook. Case Keeper will work on any 18 inches or deeper safe from any gun safe manufacturer and fits on all Steelhead Outdoors modular gun safes. Like Steelhead Outdoors line of modular gun safes, Case Keepers and accessory hooks are Made in America. Available at steelheadoutdoors.com with a suggested retail of $49 USD.
Steelhead Outdoors launches the Bow Keeper to easily hang a bow on the exterior of gun safes. Like its line of modular gun safes, the Bow Keeper is Made in America. This magnetic accessory is designed to attach to the side and top of a safe and can hold a maximum of 30 lbs. Most cams and bow limbs can hang on the elongated hook with a protective rubber edge. The hook assembly attaches to the exterior of a safe by with the attached magnets. The bracket has a durable black textured powder coating. The Bow Keeper will work on any safe from any gun safe manufacturer and fits on all Steelhead Outdoors modular gun safes. Other accessories like range bags, packs can also be hung from the Bow Keeper. Available at steelheadoutdoors.com with a suggested retail of $35 USD with free shipping.
To learn more about pistol lockers, modular gun safes, tactical safes, vault doors, Case Keeper and Bow Keeper, visit SteelheadOutdoors.Com Follow them on Instagram.com/SteelheadOutdoors, on Facebook.Com/SteelheadOutdoors and watch how-to videos on their YouTube channel.
About Steelhead Outdoors:
Founded in 2016, Steelhead Outdoors is an innovative safe company offering the only American-made, modular, fire-insulated gun safe available currently on the market. Longtime friends, engineers and avid outdoorsmen, Charlie Pehrson and Corey Meyer, searched for a gun safe that was Made in USA, adaptable and offered a respectable level of fire and theft protection, but they soon realized this product didn't exist. Since they couldn't buy it, they decided to build it. Steelhead Outdoors was created with the goal of building a safe that customers could, and would want to, take with them from one home to the next, or pass down from one generation to the next. Four years of research and development went into the flagship Nomad Series, to create a durable, lasting and innovative modular gun safe. Headquartered in Shakopee, Minnesota, where all products are proudly designed, manufactured and shipped. Learn more at SteelheadOutdoors.com.