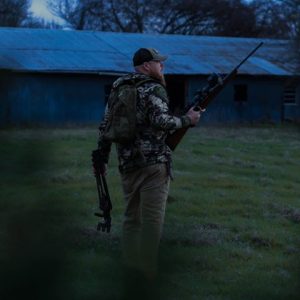 (MANSFIELD, TEXAS) – Pulsar, a leading manufacturer of thermal imaging optics, will be exhibiting its latest products at CANCON 2023, a combination range day and gun show being held at the 17 South Rod & Gun Club in Fleming, Georgia on November 10–11, 2023.
CANCON, the ultimate gathering for firearm enthusiasts and professionals, is a unique fusion of a range day and gun show. Hosted at the esteemed 17 South Rod & Gun Club in Fleming, Georgia, this year's event is set to be bigger and better than ever before. The event is sponsored by Recoil and Gun Digest Magazines and offers attendees an exclusive opportunity to experience the latest innovations in the firearms industry.
The Saturday Premier Night Shoot, reserved for Premier Ticket Holders, will feature low-light shooting tools at the rifle ranges such as the high tech digital thermal riflescopes from Pulsar, including the Thermion LRF XP50 Pro and the Thermion Duo DXP50.
The Thermion LRF XP50 Pro is a long-range thermal riflescope with a 2,000-yard detection range and a 640×480 microbolometer sensor. It is perfect for hunters, shooters, and law enforcement professionals who need the ability to identify and engage targets in low-light and nighttime conditions.
Equipped with a high-resolution 640×480 microbolometer sensor and built-in photo and video recording to capture the greatest moments of the hunt, the Thermion LRF XP50 Pro offers unmatched clarity and performance in various conditions.
The Thermion Duo DXP50 is Pulsar's first multispectral digital riflescope, capable of displaying both stunning imagery in both full-color daytime mode as well as thermal mode. This makes it the perfect all-around riflescope for any situation.
This full-color/thermal riflescope features a 640×480 microbolometer sensor for thermal imaging and a 3840×2160 CMOS sensor for daytime imaging. It also features a variety of reticle options and a high-resolution 1024×768 AMOLED display.
In addition to exhibiting its products, Pulsar will also be offering live demonstrations of its thermal imaging optics at CANCON. Attendees will have the opportunity to try out Pulsar's optics firsthand and see for themselves why they are the best on the market.
Visit Facebook, Instagram and YouTube to learn more about Pulsar® products.
About Pulsar
Every Pulsar device is designed, manufactured and tested to ensure demanding professionals receive the most reliable, most advanced thermal and digital night vision performance the industry has to offer. The result of Pulsar's commitment to industry-leading excellence is consistent world-class quality, precision engineering, seamless device operation and cutting-edge proprietary software. Pulsar produces an array of advanced optical devices designed for law enforcement, security, home defense and hunting applications, including thermal imaging and digital night vision monoculars, binoculars and riflescopes, IR illuminators and related accessories. To learn more about Pulsar, visit www.pulsarnv.com. For media requests related to Pulsar, please email mediarelations@pulsarnv.com.