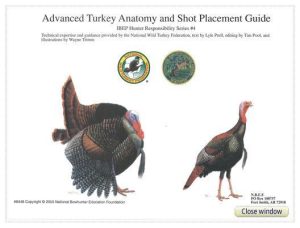 Improve accuracy and reduce game recovery time
RAPID CITY, SD (March 14, 2023) – The National Bowhunter Education Foundation (NBEF) offers educational items to increase success and safety for bowhunters. The shot placement guide can help wild turkey hunters improve shot accuracy for a quick harvest and game recovery.
The Advanced Turkey Anatomy and Shot Placement Guide is an informative shot placement training aid with full color 8.5" x 11" transparent overlays. Separate acrylic overlays feature the muscular system, skeletal system, circulatory system, and vital organs specific to turkeys. Accompanying text includes shot placement information and illustrations for both firearm hunters and bowhunters. Useful for hunting guides, hunter education instructors or today's informed hunter. Responsible hunting includes knowledge of accurate shot placement for a quick kill and game recovery. Technical expertise and guidance for this booklet was provided by the National Wild Turkey Foundation. This is part of the International Bowhunter Education Program Hunter Responsibility Series which includes anatomy and shot placement guides for whitetail deer, bear and elk. All guides are 3-hole punched making it easy to collect all four booklets. Suggested retail $12.50 each.
"NBEF provides educational items that can lead to safer and more successful hunts," shared NBEF Executive Director Marilyn Bentz. "Even experienced hunters can use these tools as a refresher for a better experience in the field."
NBEF helps bowhunters be safe, successful and stewards of the sport. NBEF offers bowhunting instructional items, books, videos, 3-D models, apparel and more at

nbef.org

.
About NBEF
The National Bowhunter Education Foundation offers instructional content and tools for bowhunter education classes in the US. Helping bowhunters become safe and successful hunters and stewards of the sport are important NBEF missions. NBEF provides the bowhunter certification standards and class content that some states and certain circumstances require in order to bow hunt. NBEF provides instructor training and certification.
NBEF oversees the International Bowhunter Education Program and works with the International Hunter Education Association and state agencies to coordinate a unified program. States may have additional requirements. Europe and other countries accept the NBEF (IBEP) certification and conduct IBEP classes.
NBEF also oversees the International Crossbow Education Program and works with state agencies responsible for crossbow education to develop comprehensive online crossbow safety courses that teach students important laws and regulations, game identification, and safe, responsible handling of crossbow equipment.
NBEF is a 501(c)3 corporation that isn't a membership-based organization. Tax-deductible donations to support this non-profit are welcome.
Learn more at nbef.org.