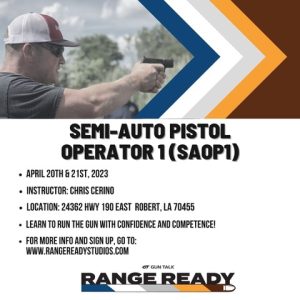 Robert, LA – Range Ready, in association with Gun Talk Media, expands class offerings to the public. Southern Louisiana's premier training facility opens enrollment for numerous classes, including our Semi-Auto Pistol Operator 1 (SAP01) course that is set to begin April 20th – 21st.
The SAP01 course is a two-day immersion that hammers marksmanship and weapons handling skills. Not for the completely unskilled, SAPO1 combines the essentials of marksmanship with the principles of combat shooting and places them into a hierarchy of necessity and importance.
Training focuses on a mastery of the basics in a highly diagnostic fashion. Master the critical aspects of muscular-skeletal alignment, platform, pistol presentation, modern grip, and trigger management. Common misconceptions regarding shooting are addressed within the course.
Chris Cerino, Director of Training Content at Range Ready, provides instruction at the highest level. Chris is a 28-year veteran of law enforcement. He has been a SWAT member, Federal Agent and more. He trains internationally, competes regularly and serves as the Director of Training Content for Range Ready. His roles continue to grow each day at Range Ready and Gun Talk Media all while maintaining Double C Farms.
"It's amazing how 'advanced', training can become when we start to pile on the basics. Time on task is the fix to a solid foundation in firearms training and, that solid foundation is what everyone needs when the big storm comes, said Cerino." "I'm a firm believer that the basics win the day. For years I've been a student of the importance of weapon manipulation, gear manipulation and fundamentals of marksmanship. These tenants are what cause my students and myself to excel."
Range Ready course that are on the calendar include the following:
Concealed Carry Tactics 1 (CCT) – May 12
First Person Defender Experience – May 25 – 26
Ladies Only Handgun 1 – June 1 – 2
To learn more and to sign up visit https://www.rangereadystudios.com/training-courses.
###
About Gun Talk Media:
Gun Talk Media is a multi-media company which produces "Tom Gresham's Gun Talk," a nationally-syndicated radio talk show carried on more than 220 stations; television programs "Build Box" and "Guns & Gear" (airing on The Outdoor Channel, Sportsman Channel and WildTV), plus the online series "First Person Defender," now all airing on Roku, Apple TV, and Amazon Fire TV, and available on YouTube and Facebook.
Gun Talk Media recently launched Range Ready Studios, which provides firearms training. Find out more at https://www.rangereadystudios.com/. Gun Talk also produces a variety of clothing options available at https://www.guntalk.com/shop.  Learn more at https://www.guntalk.com/.
Contact:
Ryan Gresham, President, and CEO
ryan@guntalk.com/985-951-9714