Welcome
Welcome and thanks for stopping by the Professional Outdoor Media Association (POMA) website. Whether you're a hunting and fishing industry communicator, industry professional or an avid outdoor sports enthusiast, POMA is working hard for you.
POMA is dedicated to seeing the traditional outdoor sports story is told honestly and fairly so hunting, fishing, the shooting sports and trapping will endure.
Subscribe to POMA News and keep up with POMA news, events and issues. If you're an industry professional, join us.
#POMA2023 highlights
POMA Members attended our annual Business Conference in Broken Arrow, Oklahoma, from June 12th-15th.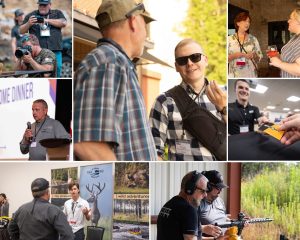 insight sessions
Check out POMA Insight Sessions, our conference-style educational sessions that are being offered virtually. We've got more to come, and you don't want to miss it! Free for members and a great value for non-members. Sessions are recorded and available to members and registered attendees. Archived Insight Sessions can be accessed here.
Testimonials
POMA provides incredible opportunities, far exceeding any expectations I had for being a POMA member. POMA Money Line listings provide room to spawn new thinking, expand opportunities, explore life in a new facility or role, just great! Keep up the great work!

David Barus

Freelance Writer

Like many POMA members, I wear a variety of hats. Part TV production, part public relations, part freelance writer, my job varies and I go where the day takes me. The associations I build, the contacts I make and the information I learn at POMA's Summer Business Conference helps me every step of the way.... Read More

Kevin Tate

Creative Director, Mossy Oak Productions, Part-time Freelance Writer, Barbecue Grill Assembler and Flyswatter Salesman

After admiring Rockhouse Motion's work for a while, Ian connected with Aaron, and after exchanging emails and chatting on the phone, they realized they have the same work ethic: Work hard and long, cut out all the BS, and produce a premium product.... Read More

Ian Merritt

Photographer, Creative Director, and Videographer at IDM Photography

I just wanted to tell you how much I appreciate our membership in POMA.  I thought you might like to hear a great example of why it is important for companies like mine to support you. John Phillips has a new book, with a second volume already being worked on, that teaches people How to... Read More

Paige Darden

MyTopo, a Trimble Company

It pays to be a POMA member, Darren Warner said in a recent note to POMA. As a member, I'm able to receive more than three times as much for my work, from Buckmasters Rack magazine, than I would if I were not a POMA member.

Darren Warner

Freelance Writer

As a full-time freelance magazine writer and book author I spend a lot of time alone - in the office, traveling and in remote locations. POMA through its Briefs, Business Conference and webinars offers me a very valuable means of staying in communications/networking with others in my field.... Read More

J. Wayne Fears

Freelance Communicator

POMA is a money maker! A casual conversation at the POMA business conference turned into a friendship, and almost immediately, into a lucrative business deal for Gun Talk Media. In business, it's often about the contacts, and POMA provides quality contacts.

Tom Gresham

Gun Talk Media

I am new to the industry, and I know there is a lot of water left to tread before I find my own sweet little island. However, because of POMA and the commitment and conviction of its founding members, I now have more confidence and better tools than I could have imagined receiving from any other source.... Read More

Andrew Chamberlain

Author Cartridge Comparison Guide; Western Hunter Shooting Editor

Just a few weeks after the conference, with one project, I was able to generate coverage for six POMA Corporate Partners. And, with the participation of those partners, I was able to write a much more rich and interesting review.... Read More

Gil Horman

Technical Content Provider

I have 7 articles publishing this week due to my association with POMA. Not to mention the numerous business opportunities from people that I have met. Just last week a company that I wanted to do some business with automatically jumped on board when he heard that I was a POMA member. I can't even begin to tell you how much business I did just this week due to my POMA connections.

Tom Claycomb

Freelance
View All