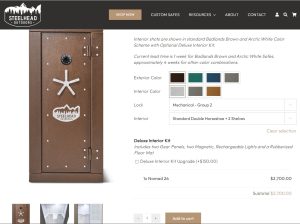 Easier to order, configure, customize and get shipping estimate
Shakopee, MN (February 1, 2023) Steelhead Outdoors has improved its website to make ordering a modular gun safe online easier than ever. Select a safe size, exterior color, interior color, lock and interior configuration. Add a popular deluxe interior kit that includes two gear panels, two magnetic, rechargeable lights and a rubberized floor mat. The order form on the page shows the total as features are selected. During the checkout process, curbside shipping charges are calculated automatically. Customers can contact Steelhead Outdoors if they'd like to explore alternative terminal pickup options to potentially save money – usually $100-$200. Consumers may also contact Steelhead Outdoors to discuss their purchase or explore custom size and color options. For larger collections, Steelhead Outdoors has helped customers configure side-by-side safes with doors that swing to the side. Customers can order gun safes, accessories, vault doors and apparel at steelheadoutdoors.com.
Steelhead Outdoors offers three sizes of Nomad Series safes which feature many high-end security features expected in a premium gun safe. Prices start at $2,700. The patent-pending construction features a fully dry insulation system, eliminating the need for a dehumidifier. This system utilizes a radiant heat reflecting coating to reject incoming heat from entering the safe. The metal interior provides additional protection and is made from nearly 100 percent nonflammable materials. The panels are filled with ceramic fire insulation that is rated to 2300 degrees and is non-moisture trapping so it does not require the use of a dehumidifier and will not release steam into the safe in the event of a fire.
Steelhead Outdoors' Made in America Recon 38 tactical safe offers storage for firearms and associated gear in a flat textured black finish with graphite colored logo and handle and custom blacked out hardware. This special tactical package includes a custom bolt-on roof rack for stowing extra gear and range bags. The rack's raised perimeter helps keep items in place on top of the safe. Prices start at $4,400 USD.
Steelhead Outdoors Gun Case Keeper is a great tool for hunters to help organize and store hunting gear. This magnetic accessory is designed to attach to the upper corner of a safe and can hold a maximum of 30 lbs. The adjustable system is capable of holding soft cases, game calls, rangefinders, optics or other items capable of hanging on a hook. Case Keeper will work on any 18 inches or deeper safe from any gun safe manufacturer and fits on all Steelhead Outdoors modular gun safes. Like Steelhead Outdoors line of modular gun safes, Case Keepers and accessory hooks are Made in America. Available at steelheadoutdoors.com with a suggested retail of $49 USD.
Steelhead Outdoors created its Homestead Vault Doors collection as an alternative to modular gun safes for people with large gun collections or who want to create a safe room in their home. Safe rooms aren't just for Hollywood celebrities and professional athletes. More people are incorporating safe rooms in their homes to protect their family and keep their valuables secure. Homestead Vault Doors start at $5,500.
To learn more about modular gun safes, tactical safes, vault doors and Case Keeper, visit SteelheadOutdoors.Com Follow them on Instagram.com/SteelheadOutdoors, on Facebook.Com/SteelheadOutdoors and watch how-to videos on their YouTube channel.
About Steelhead Outdoors:
Founded in 2016, Steelhead Outdoors is an innovative safe company offering the only American-made, modular, fire-insulated gun safe available currently on the market. Longtime friends, engineers and avid outdoorsmen, Charlie Pehrson and Corey Meyer, searched for a gun safe that was Made in USA, adaptable and offered a respectable level of fire and theft protection, but they soon realized this product didn't exist. Since they couldn't buy it, they decided to build it. Steelhead Outdoors was created with the goal of building a safe that customers could, and would want to, take with them from one home to the next, or pass down from one generation to the next. Four years of research and development went into the flagship Nomad Series, to create a durable, lasting and innovative modular gun safe. Headquartered in Shakopee, Minnesota, where all products are proudly designed, manufactured and shipped. Learn more at SteelheadOutdoors.com