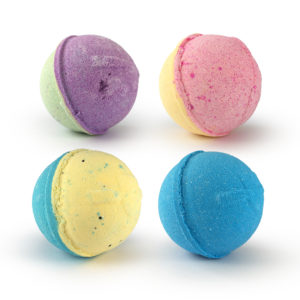 Warfighter Hemp, a manufacturer of CBD products infused from industrial hemp based in Boulder, Colorado, debuts a holistic and natural new product, that soothes the mind and body. The Warfighter Hemp Bath Bombs join the Warfighter Hemp Bath Bomb Mix in the company's line of bathing products, making it easy to deliver relief to people suffering from a variety of ailments, including PTSD, seizures, stress, pain and sleeplessness.
The bath bombs mix, Napalm, comes in 4-ounce and 8-ounce package, each containing 50 mg of CBD derived from industrial hemp. The 4-ounce package is a one-bath supply retailing for $17.99; the 8-ounce package is a two-bath supply retailing for $34.99.
The bath bombs, which come in four different fragrances, can be purchased singularly or in a four-pack. Each bomb has a one-bath supply of 35 mg of CBD derived from industrial hemp. A single bomb retails for $9.99; the four-pack is $31.99.
Unique Bath Bomb Fragrances
The Viper bath bomb is a lemongrass kiwi fragrance with a coconut oil base, incorporating Hawaiian black salt and neroli essential oil. Soothe your inner soul with this bomb that will clear your head and reduce stress with its natural anxiety remedy.
Prowler is a shea butter oil featuring Himalayan pink salt and helchrysum & bergamot essential oil. Drink in the citrus aroma and the bath bomb replenishes much-needed moisture. It's a natural remedy for eczema, itchiness and redness while relieving inflammation.
Hornet is a fresh bamboo aroma featuring coconut oil and yiang yiang essential oil. This natural romance booster increases libido while inducing relaxation for a good night's sleep.
For sore muscles, check out Thud, which features Epsom salt with wintergreen & peppermint essential oil. For sensitive skin, this bomb has multiple antioxidative and pain-reduction properties with a fresh eucalyptus and peppermint fragrance.
CBD in bath bombs interact with your body's CB2 receptors by absorbing through the skin. Because the whole body is immersed, a smaller amount of CBD can be exponentially more effective than by other delivery means.
"Warfighter Hemp recognizes that people want a variety of CBD options to incorporate easily into their everyday routines, such as bathing," said Steve Danyluk, LtCol, USMC (ret) and founder, Warfighter Hemp. "Bathing itself is both a physical and mental escape, and with our CBD-infused bath bombs, that soothing experience is further enhanced."
The Maker Behind Warfighter Hemp Bath Bomb Mix
Tamara Smith of Household 6 Soap is the maker behind Warfighter Hemp Bath Bomb Mix. Smith, whose husband is now stationed at Fort Benning, Georgia, began her soap-making business after leaving the workforce to stay home with the couple's children after their move to Fort Lewis in 2014.
Smith incorporates products from other makers, including home-made charms and back scratchers, in many of her products. She even has a coffee soap that incorporates coffee roasted by a Navy sailor. It was a customer who requested custom CBD-infused bath bombs that gave Smith the idea to expand her offering.
"I personally use CBD. As a type 1 diabetic I saw the positive impact that CBD had on my own health, bringing my A1C down from an 11.5 to an 8.5," said Tamara Smith, founder, Household 6 Soap and creator of Warfighter Hemp bath bombs. "I'm excited that Warfighter Hemp customers can now use my bath bombs to help improve their own specific conditions."
To learn more about Warfighter Hemp, log on to warfigherhemp.com and follow the company on Facebook.
About Warfighter Hemp
Warfighter Hemp is a Colorado-based manufacturer of CBD derived from industrial hemp. We are comprised of veterans and non-veterans who believe in providing an alternative to the prescription painkillers that many veterans are taking and which prevents them from living their best lives. Our mission is to provide veterans and non-veterans with a holistic and natural alternative.
We are a worldwide organization with representatives and ambassadors around the globe. We give 50 percent of our profits back to other charities that support veteran's independence. These organizations include Semper K9, Pawsandwarriors, Independence Corps, Spartan Alliance, Villagers for Veterans and Aleethia Foundation.
###