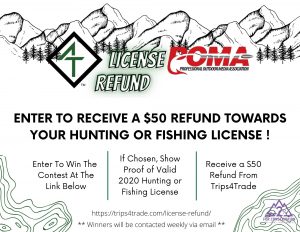 The License Refund Program is a thank you to those who have spent money on a hunting or fishing license this year. Randomly selected entrants will receive $50 after showing proof that they purchased a valid U.S. hunting or fishing license. We believe this gesture will help retain thousands of new outdoorsmen and women. It can also be an incentive for someone to buy a license if they haven't already.
Video overview: https://youtu.be/_Hflkw-4Rt0
The program officially started today, and the contestants can submit their entry until December 31st. Winners will be selected weekly.