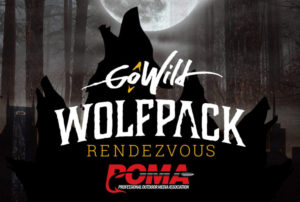 GoWild and POMA are planning a fun event in Nashville, TN, where you can meet some new faces and fellowship with familiar ones.
WHAT
Our fifth Wolfpack Rendezvous, this time with POMA. Attendees are coming from far and wide to hang with the teams, including Executive Director, Kevin Orthman, Co-Founder of GoWild, Brad Luttrell, and GoWild Chief Marketing Officer, Jenn Callahan.
WHEN
February 14th, 5:00 pm – ?
WHERE
Nashville Palace
2611 McGavock Pike
Nashville, Tennessee 37214
WHY
Connect with likeminded awesome people. Music. Dancing. What else do you need? Horses. Got it, we'll work on that.
Local eats available on site.
Grab some GoWild gear. We're talking stuff you can't purchase on the website.
Because these events typically bring out 150-200 people. And they're awesome.
WHY NOT
You have lost all ambition and hope of ever doing anything fun again.
_______
Hope to see you there!
GoWild and Professional Outdoor Media Association (POMA) have teamed up to host this event. For more information about GoWild visit https://timetogowild.com/. If you have questions about the event, please reach out to Brad@timetogowild.com, or Jenn@timetogowild.com.