"Seasons – Stories of Family, God and the Great Outdoors" by Larry Whiteley will be available on Amazon Kindle e-reader, and in paperback at amazon.com and other online retailers, June 20th. Paperback – $12.95, e-Book – $5.99. Pre-orders for the Kindle e-Book are now available. Pre-order now.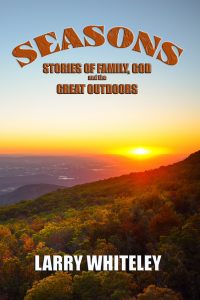 COMING SOON: The audio version of "Seasons – Stories of Family, God and the Great Outdoors" will feature Whiteley's unique voice which was heard on Bass Pro Shops Outdoor World Radio and on overhead and phone systems in Bass Pro Shops and Cabela's stores across America for 33 years.
Here are some things people who have previewed "Seasons – Stories of Family, God and the Great Outdoors" have said.
"A lifetime spent in the woods and on the water, even if not every day, can evoke thoughts, emotions and even a spirituality not easily attained by others. Larry has done a wonderful job of relating all of these in this wonderful book. He brings a peaceful understanding of why generation after generation has found answers to life's hardest questions by absorbing the sights, sounds and feelings experienced while surrounded by nature. Here is to a life well lived. Cheers, Larry!"  
– Mark C. Smith, Executive Director, Association of Great Lakes Outdoor Writers 
~~~
"I met Larry more than 30 years ago. Soon, he became one of my favorite writers. His writing will touch your heart, will make you laugh, and might even make you cry. But mostly, he will make you glad you are alive."  
– Bobby Whitehead, Editor Emeritus Outdoor Guide Magazine 
~~~
"Larry tugs at every heart-warming emotion when he details a beautiful morning sunrise from a deer stand, the smells, sounds and visual impact of a crackling campfire and the importance of skipping rocks with grandkids. I recommend reading this book one story a night, to enjoy and savor every outdoor memory and moment he shares." 
– Tim Huffman, award-winning outdoor writer, author, photographer. 
~~~
"Larry's devotion to God, his family, and the outdoors in SEASONS jump off the pages and into your heart. He is a passionate, dedicated, and a knowledgeable outdoorsman, and makes you feel like you are right beside him on his adventures. The journeys he takes you on will make you laugh, cry, and deepen your appreciation for the outdoors. This world needs more humans like Larry Whiteley, and SEASONS needs to be read by the world." – Tyler Schwartze, Executive Director of the Conservation Federation of Missouri 
~~~
"SEASONS is a masterpiece! From exceptional adventure to excitement at deer camp, to peaceful moments of storytelling around a campfire, Larry Whiteley tastefully shares life lessons of learning and wisdom, and new discovery in nature. He explains the sweet song of wind and water – with leaves popping in spring and turkey gobbles on the next hilltop; the sight of birds overhead – a soaring eagle; his fascination with the nighttime summer sky – star galaxies and fireflies; the treasured view of wildlife in the autumn woods – chirping squirrels and antler-jousting deer. The extraordinary significance of nature is well-explained in this guidebook of life and love for the outdoors. SEASONS is a bible for young and old to begin their own remarkable journey for life with nature and God, with exceptional lessons on every page."  – David Barus, Syndicated Outdoor Columnist 
Larry is a member of the Professional Outdoor Media Association, the Association of Great Lakes Outdoor Writers, Southeast Outdoor Press Association and Missouri Outdoor Communicators. He has won numerous awards for his magazine and newspaper articles, blogs and radio show. In addition, he is the "Outdoor Ambassador" for the Branson, Missouri CVB and Springfield, Missouri CVB.
A portion of the profit from this publication will be donated to organizations that teach kids and families to enjoy the great outdoors.
Media Contact:
The Great Ozarks Outdoors, Inc.
Larry Whiteley
larrywhiteley2@gmail.com
417-830-9023