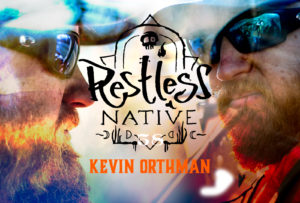 "As we see the traditional storytellers retire, it's about bringing up the next generation. We have a lot of young people, but I don't want to lose the baby boomer's knowledge. Some of these people have been doing this for 35 yers and they've made the mistakes we don't want to make ourselves."
— Kevin Orthman
Kevin Orthman joined Brad Luttrell, GoWild's CEO, CoFounder and the host of the Restless Native podcast, for a thorough Q&A discussion around the future of media. Dozens of questions are asked and answered by both Orthman and Kevin, and some of their answers might just surprise you.
Orthman got introduced to GoWild just a few days before the hunting and fishing app launched. And as Luttrell, would tell you, Orthman has been one of GoWild's best supporters ever since.
And Luttrell likewise has become a supporter of POMA. While he originally joined POMA for the connections, thinking it could help us pickup some good advertisers as the GoWild grew, what came out of it was so much more.
"I've made friends, found teammates, met thought leaders, and founded many businesses relationships," said Luttrell. "The Professional Outdoor Media Association is the best program we work with. I can't wait for the convention this summer. I highly recommend you check it out."
Listen to Restless Native on iTunes, Stitcher, Google Play, Podbean, Spotify, or TuneIn. You can also listen at the website.