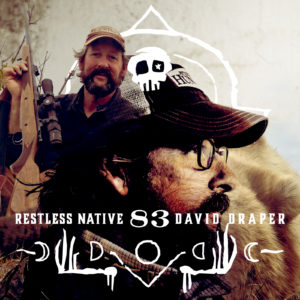 Petersen's Hunting Editor, David Draper, Joins Restless Native
"'Hunters' for a long time were rednecks who drove around in trucks and shot everything. Those are poachers. But that was the identity that hunters had. We've changed the conversation. People are realizing that hunters are the true conservationist."

— David Draper, Restless Native Episode 83
An avid hunter and accomplished writer, David Draper has traveled the globe in search of good stories and good food, yet his roots remain firmly planted in the soil of his family's farm on the High Plains of Nebraska. He's hunted five of the seven continents, and in some of the remote places on the planet, including the Brooks Range in Alaska.
A 20-year industry veteran, Draper has worked in communications, writing and editing roles for the biggest names in the industry. In addition to bylines in scores of publications, he also served as the editor for the hunting journals of Dick and Mary Cabela and contributed to several books on the outdoors. Draper is Editor-in-Chief of Petersen's Hunting magazine, where he also writes the Fare Game column covering all aspects of processing and cooking wild game.
David joins the cofounder of GoWild, Brad Luttrell, on the latest episode of Restless Native. The two talk about outdoor writers' shift to online journalism, hunting influencers, social media's impact on hunting, cooking, hipsters, food and health.