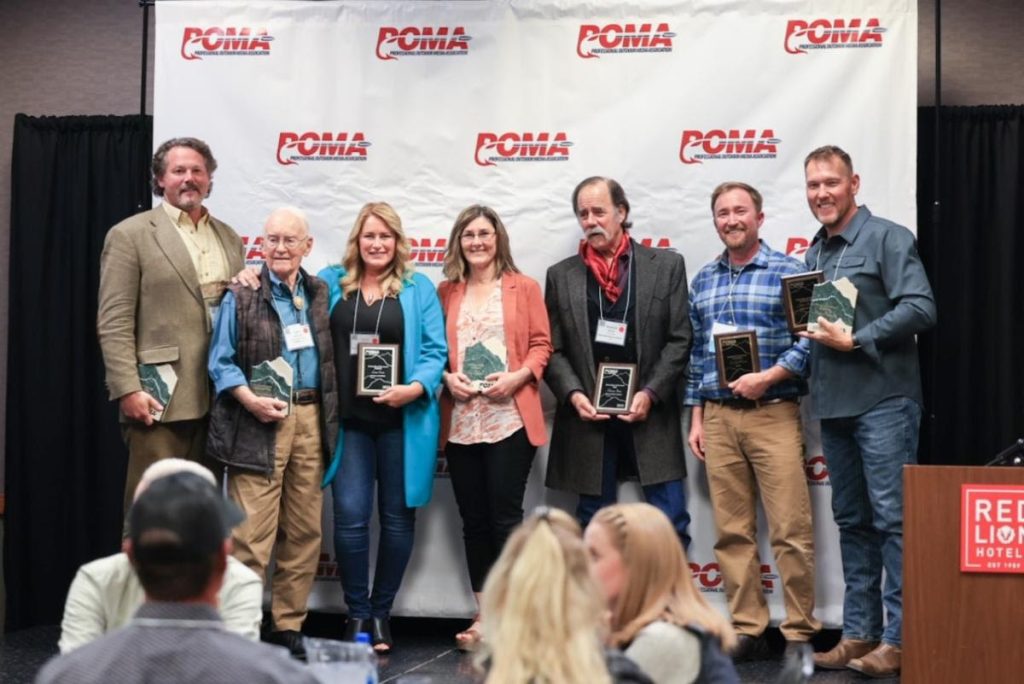 KALISPELL, MONTANA – The Professional Outdoor Media Association's (POMA) 2022 Pinnacle Award honorees were announced by Thomas MacAulay, during POMA's 16th Annual Business Conference in Kalispell, MT. on Wednesday, June 15.
The Pinnacle Awards honor journalists for remarkable achievement in traditional outdoor sports-focused communications, including writing, photography/illustration/art, and broadcasting as well as content focused on wildlife conservation.
"The outdoor media and content creators of our industry are paramount to communicating our message to the public. The Pinnacle Awards are designed to highlight the best of the best within the outdoor media, and we are proud to present these awards to those individuals who are a credit to our industry," said POMA's Executive Director, Thomas MacAulay.
2022 POMA PINNACLE AWARD WINNERS
Art/Photography:
Winner – Matt Addington, "Moose Drool", Federal Premium
Outstanding Achievement – Matt Addington, "End of a Great Day", Pheasants Forever
Book:
Winner –  Sue Tidwell, "Cries of the Savanna. An adventure. An awakening. A jouney to understanding African wildlife conservation", Amazon.com
Outstanding Achievement – Herman Brune, "The Lost Rider & Friends", Trips Publications
Broadcast:
Winner –  Josh Honeycutt, "First Buck Ever", Midwest Whitetail (YouTube)
Outstanding Achievement –  Tom Opre, "Mountain Thunder – The Merriam's Wild Turkey", NWTF convention/Facebook
Conservation:
Winner –  Tom Opre, "Killing the Shepherd", Flathead Lake International Film Festival
Outstanding Achievement –  PJ DelHomme, "SOLD!", Montana Outdoors
Magazine:
Winner –  Tyler Frantz, "Un-Bear-Lievable! A Lycoming County Hunting Camp's 100-Bear Legacy", Pennsylvania Game News
Outstanding Achievement – Laura Evans, "Survivors, Not Victims", Shooting Industry Magazine, May 2021
Newspaper/Web:
Winner – John Jefferson, "Just an Old Cabin", Clyde Journal
Outstanding Achievement – Larry Whiteley, "The War. The Woods. The Family. The Story", Share the Outdoors