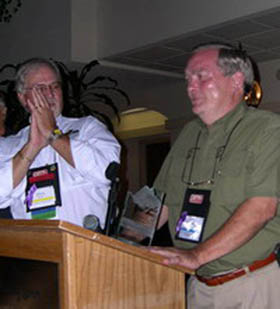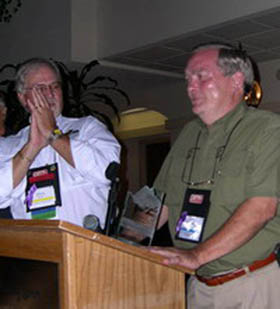 SEPTEMBER 1, 2006, JOHNSTOWN, PA — He's The Terminator of volunteers. He's 100-percent dedicated to the task at hand, determined to succeed, and willing to give all he has to get the job done. He's Pat McHugh, president of MPI Outdoors and the recipient of the Professional Outdoor Media Association's (POMA) first Emerald Cornerstone Award, presented for "Extraordinary Volunteer Effort".
"This is not an award that POMA gives lightly or that POMA will present on a regular basis," explained POMA Chairman, Betty Lou Fegely, as she presented the award to McHugh at POMA's First Annual Business Conference at Springfield, Missouri. "The Emerald Cornerstone Award will honor those whose selfless service to our organization is truly extraordinary, those who harbor the passion for our organization and dedication that Pat McHugh has displayed."
McHugh was a member of the founding board of directors of POMA, serving as the organization's first Corporate Partner director until last week. When the elected board asked Pat to serve as the director who would represent the voice of POMA's Corporate Partner member, he immediately agreed. When POMA was founded and needed financial assistance just to send mailings announcing the group's launch, McHugh was there to do more than just pay the tab. He pulled the communications together, printed and mailed them. He initiated, designed and delivered POMA's Corporate Partner newsletter, Focus. McHugh served tirelessly on the Business Conference Committee, giving hundreds of hours of his time to ensure the success of POMA's inaugural event in Springfield and was the architect of the Field Day event at the conference.
"McHugh truly is a cornerstone in POMA's foundation," said J. Wayne Fears, POMA's president. "The benefits of Pat's dedication to this organization are indefinable. Extraordinary – that's Pat McHugh."
About the Emerald Cornerstone Award.
###
Save