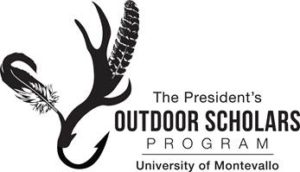 The President's Outdoor Scholars Program at the University of Montevallo has started sharing its 4th season of special hunting and fishing trips with the rest of the world via its YouTube series, "Outdoor Scholars TV."
This season will consist of 10 episodes running around 10 minutes each. The first episode, released on July 15 2021, follows the University of Montevallo bass fishing team as they compete in the2020 Collegiate Bass National Championship.
According to William Crawford, director of the Outdoor Scholars Program, the series provides a means to show the program's opportunities and adventures, while also serving as a learning tool for students to gain hands-on experience with videography skills.
Each episode is filmed by the Outdoor Scholars students to teach them the value of good camerawork and responsibilities for the equipment management to ensuring the gear was charged and in good condition for each shoot.
"The Outdoor Scholars Program has presented me with so many memories that I will take forward with me in my career. One of which would be when I discovered the filming and editing side of the outdoor industry," said James.
A new episode will be published to the Outdoor Scholars YouTube channel every Thursday through Sept. 16, 2021.
William Crawford
Outdoor Scholars Program Director
Head Fishing Coach
University of Montevallo
Station 6216
Montevallo, AL 35115
205-665-6216 (office)
http://outdoorscholars.montevallo.edu/