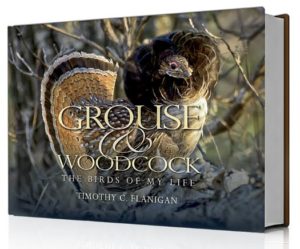 Wild River Press announces the preorder opportunity of the new book, "Grouse & Woodcock, The Birds Of My Life" by Timothy C. Flanigan, featuring the author's award-winning writing and photography. The publication date is March 21, 2020. Special Note: Limited Edition Numbers Assigned in Order Received.
The book is casebound and cloth hardcover with jacket, forty chapters, 413 pages, all color, 11 x 8.5 inches, in landscape format on thick matte stock, fully illustrated with hundreds of original photos by the author and printed in North America by skilled craftsmen on quality paper stock certified FSC for responsible forestry. There are a Standard Edition and the Deluxe Leather-Bound Edition, which has a matching rich tan leather slipcase and limited to 100 copies signed and numbered by the author, copper-embossed grouse head on the cover and bound-in bookmark ribbon.
This magnificent new book celebrating two of America's greatest game birds is the pinnacle of one man's lifetime devotion to ruffed grouse (Bonasa umbellus) and American woodcock (Scolopax minor), what he calls the "classic combination" of upland gunning. It has been a passionate pursuit for Timothy C. Flanigan.
It's all here: natural history, anatomy, breeding and nesting, habitat preferences, predators, food and feeding habits; selecting shotguns and loads, improving your shooting skills, training and keeping dogs; identifying productive coverts, how to work a covert effectively, the importance of hunting edges, following up on flushes; early-season strategies, hunting in the snow, hunting in the rain, best time of day for maximum points and flushes—and a great deal more.
This link provides additional book information, prices, and preorder opportunities: https://www.wildriverpress.com/product/grouse-woodcock-timothy-c-flanigan-wild-river-press/