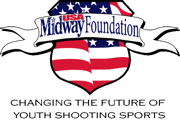 Columbia, MO –With a growing number of today's youth joining youth shooting teams, MidwayUSA Foundation, a public charity focused on funding youth shooting teams, is finding new ways to generate funds that can assist teams across the country. One of these new ways is through the Everest Gives Back program. Everest, the first online multi-merchant marketplace, much like Amazon for the outdoor recreation world, provides charitable contributions to a select group of like-minded non-profits.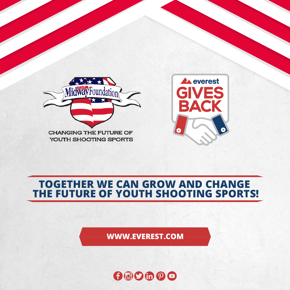 "It is an honor to be part of the Everest Gives Back program. Everest is growing quickly, and we have high hopes their success will help us continue to provide opportunities for youth shooting team athletes that are the future of our outdoor industry.  As youth shooting sports continues to grow nationally, so does the demand for outdoor recreation products and shooting sports gear, making this partnership between us [MidwayUSA Foundation] and Everest a perfect fit," said John Linquist, MidwayUSA Foundation Relationship Manager.  Customers that join the Everest community have a variety of ways, listed below, to support MidwayUSA Foundation's mission but more information can be found on the Foundation website [midwayusafoundation.org/supporting-programs].
Everest Gives Back will provide funding to MidwayUSA Foundation in multiple ways:
At checkout, shoppers are encouraged to select MidwayUSA Foundation and round up their total order to the nearest dollar or higher
A portion of all Caliber Membership revenue is transferred to Everest Gives Back and MidwayUSA Foundation
A portion of net revenue is transferred to MidwayUSA Foundation through Everest Gives Back
"For over a decade, MidwayUSA Foundation has supported the growth of youth in the shooting sports and currently manages endowments for thousands of youth shooting teams and almost 250,000 athletes, parents and coaches," says Kristi Heuring, Chief Marketing Officer of Everest.  "Everest is honored to partner with and support their efforts to grow the shooting sports while building the character, confidence and leadership skills of today's youth."
About Everest – Driven by our Caliber Members, the Everest mission is to create the largest marketplace on earth for the outdoor recreation community – a place where retailers can sell gear, apparel and accessories for all outdoor recreational activities including hiking, camping, biking, rock climbing, winter sports, watersports, team sports, fishing, hunting, kayaking, rafting, road and trail running, and much more. Everest is a place where like-minded consumers can learn, interact, participate and shop. Ultimately, we are a community of like-minded, non-discriminating, conservation-loving outdoor living retailers, manufacturers, distributors and consumers. Join the movement today.
About MidwayUSA Foundation – The MidwayUSA Foundation is a 501(c)(3) public charity working to sustain and grow the shooting sports industry by providing long-term funding to youth shooting teams. Every donation made is tax-deductible and allows the Foundation to assist in expanding and enhancing the leadership skills, confidence, and discipline of today's youth through shooting sports activities. The Foundation supports all shooting disciplines. For more information about how the MidwayUSA Foundation is changing the future of youth shooting sports, please visit MidwayUSAFoundation.org or call 1-877-375-4570.