Jim Dougherty Selected as Inaugural Fred Bear Award Honoree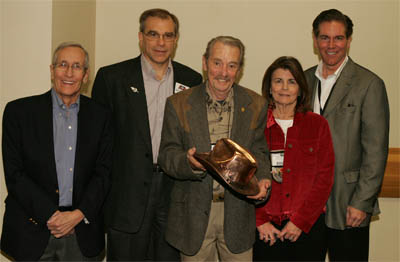 JOHNSTOWN, Pa. – History was made Jan. 11, 2008, at the ATA Trade Show at Indianapolis, Ind. The inaugural recipient of the prestigious POMA/ATA Fred Bear Archery and Bowhunting Communicator Award was revealed.
Veteran archer, bowhunter and journalist Jim Dougherty of Tulsa, Okla., was named the 2008 honoree.
Taken aback by the honor, Dougherty humbly told the 140-plus people present at the award luncheon, "I don't know what to say."
As he held the award, a bronzed, Fred Bear, signature, Borsalino hat, complete with turkey feather and Pearly Everlasting wildflower adorning the hatband, Dougherty reminisced.
"I always tried to get one of Fred's hats when we hunted together," Dougherty remembered. "But, as I'd leave, Fred would say, 'Jim, you forgot my hat.' Now, I have one."
The award pays tribute to communicators who embody everything that made Fred Bear so special. Award honorees are journalists who, like Fred:
defend the heritage and future of archery and bowhunting at work, at home and through his/her lifestyle,
have the words "archery" and "bowhunting" tattooed across his/her heart,
bring honesty and integrity to the editorial game,
possess communications skills other journalists envy,
are teachers – people who foster the next generation of communicators and are
professionals in every way.
"Dougherty's accomplishments and commitment define what this award is all about," said POMA Chairman Steve Scott. "During his decades of involvement in the archery and bowhunting industry, Jim has grasped the ideals, fostered the commitment, and displayed the talent Bear showed during his storied career."
Jay McAninch, Archery Trade Association CEO/President, agreed.
"At least two generations of archers and bowhunters have been educated and entertained by Jim Dougherty's writings," McAninch said. "I can't think of a more talented, deserving person to receive the first 'Fred Bear' award. He sets the standard for all recipients who follow."
Dougherty's resume is packed with impressive accolades and accomplishments, including:
President and Executive Secretary, Pope & Young Club
Board Member, National Bowhunter Education Foundation
President and Vice President, American Archery Council
Board Member, Archery Manufacturers & Merchants Organization (AMMO)
President and Vice President, Archery Incorporated
Chairman, Bear Archery Bowhunting Council
Professional Archer of the Year, 1977
California Archery Hall of Fame, 1984
International Bowhunters Clinic Hall of Fame, 1992
Safari Club International Bowhunters Hall of Fame, 1993
Bowhunter Magazine's 25 Archers for the Ages, 1996
Member, Archery Hall of Fame and Museum, Inc. Veteran's Committee
Over 55 years service to archery
Book author and magazine writer, currently on staff with Petersen's Bowhunting and Archery Insider.
A native Californian, Jim now lives in Tulsa, Okla., with his wife of 46 years, Sue. He hunts and fishes with his five sons and 13 grandchildren.
A display honoring Dougherty and future recipients of the award will be housed at The Archery Hall of Fame and Museum within Wonders of Wildlife at Springfield, Mo.
"We've turned a page in history with this award," said Dave Staples, president of The Hall. "The Archery Hall of Fame and Museum celebrates archery and bowhunting history and the inseparable bond of the archery community with the outdoors, while the POMA/ATA Fred Bear Archery and Bowhunting Communicator Award display at the Hall recognizes the award honorees' contributions to our sports and industry."
Save
Save
Save
Save