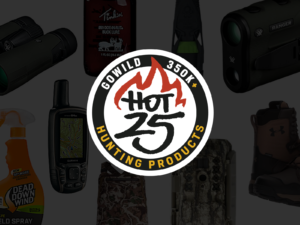 Introducing the Hot 25, a List of Hunting Products Trending Atop Millions of Searches
Hunters want the best gear that's field tested. GoWild, the social media platform for outdoor enthusiasts, is making that search a little easier with its new Hot 25.
GoWild's ecommerce feature, Gearbox, has more than 350K products available for social sharing, reviews and purchases. Across the millions of searches and impressions on the platform, GoWild has released the Hot 25, a list of the 25 most popular products hunters are putting to the test in 2020.
The average Gearbox user looks at more than 200+ products a month. Beyond searching, GoWild members share the gear that helped them earn new trophies, and can even build out their exact gear setups. All of this data from hundreds of thousands of hunters, millions of search impressions and a year of social shopping helped GoWild name the top 25 hunting products of the year with the Hot 25.
Of hundreds of thousands of products, and in order of popularity, the winners are:
1) Vortex Ranger 1300 Rangefinder
The Vortex Ranger is in the perfect sweet spot between simplicity and budget, and high performance. The rangefinder is ideal for gun hunters, target shooters and bowhunters.
2) Under Armour Tanger Waterproof Boots
Lightweight and durable synthetic leather, the Under Armour Tanger boots are proven to perform. The UA Storm waterproof membrane repels water without sacrificing breathability.
3) Moultrie 7000i Cellular Game Camera
This camera combines the quality and reliability of Moultrie game cameras with its revolutionary Moultrie Mobile technology to deliver images from your game camera directly to your pocket.
4) Tink's #69 Doe-In-Rut Deer Attractant
A true classic for whitetail hunters. The quality-controlled formula keeps the lure at its peak level of performance. Tinks #69 delivers during the pre-rut and peak rut.
5) Primos Revolver Deer Grunt Call
Primos says this call is perfect for fooling the buck of a lifetime a real possibility. The Revolver Grunt call delivers pitch-perfect fawn and doe bleats, and all variations of grunts for more effective deer hunting.
About GoWild
GoWild is a social media platform for outdoor enthusiasts. GoWild has the most expansive collection of outdoor gear on the internet, with more than 350K products to date. Members can tag gear on trophies or activity logs, find reviews of products and find trending gear among other outdoorsmen and women. To learn more about GoWild, visit timetogowild.com.