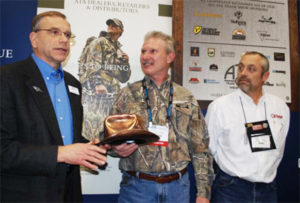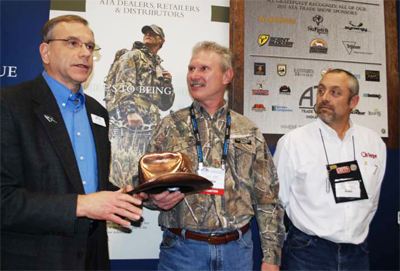 "I wonder what it would be like to be Chuck Adams," a little boy whispered to his father as Adams spoke at a sport show. "He's just like Superman, but he wears camo."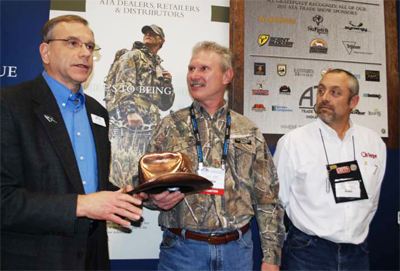 Admiration is the proper reaction to Chuck Adams, a man whose accomplishments in archery and bowhunting are legendary. Adams again entered rarified space that only names like Fred Bear, James Dougherty and Dwight Schuh can occupy. Space filled by sportsmen who are archers, bowhunters, champions of their sport and prolific journalists.
Adams was honored by the Professional Outdoor Media Association (POMA) and Archery Trade Association (ATA) as the recipient of the prestigious POMA/ATA Fred Bear Archery and Bowhunting Communicator Award. The presentation took place during the ATA Trade Show in Indianapolis, Ind.
"I just want to thank ATA and POMA for this prestigious award," Adams said. "Bowhunting is my passion and my life; and I do it because I love it. Fortunately, I was able to combine the two things I think I do best, which are writing and hunting, into a career that has kept a smile on my face for a long, long time; and I plan on keep smiling for a long time as I continue to bowhunt. Thank you again for this high honor, I really do appreciate it."
The award pays tribute to communicators who embody everything that made Fred Bear so special. Award honorees are journalists who, like Bear:
Defend the heritage and future of archery and bowhunting at work, at home and through his/her lifestyle
Have the words archery and bowhunting tattooed across his/her heart
Bring honesty and integrity to the editorial game
Possess communications skills others envy
Foster the next generation of communicators and
Are professionals in every way
"Bowhunting journalism was not a career Adams sought," explained POMA Board Member Bob Humphrey during the presentation. "Rather, it was a career that sought him. Through a professional journalism career spanning more than two decades, and an even longer personal bowhunting career, he has distinguished himself as being among the elite in both.
"The Fred Bear Archery and Bowhunting Communicator Award is an acknowledgment of how Chuck has remained relevant even in today's diverse media environs. Chuck's accomplishments particularly stand out because unlike those whose personal goal is to achieve notoriety, he has achieved notoriety for accomplishing his personal goals."
As Jay McAninch, president and CEO of the Archery Trade Association handed Adams the bronzed Fred Bear hat, the symbol of the award, he said, "Chuck is one of those guys that is synonymous with bowhunting. He has brought the (archery) message to everybody and has had time for everybody. The thing that I like is he's not the type of guy that everybody remembers from the autographed pictures, but he's the guy in the magazine, and we remember what he said in that magazine or that book. That's Chuck, and that's his legacy."
Adams is arguably the most accomplished bowhunter in the world. He is the first bowhunter to have taken all of the North American big game species recognized by the Pope & Young Club (the "Super Slam"), and has more official P&Y entries than any other bowhunter in history. These animals include former and current world records for Yellowstone elk and mountain caribou, along with others ranking in the top 10 in the all-time records.
Adams' hunting and journalistic resume is packed with impressive accomplishments:
He's taught millions of archery and bowhunting enthusiasts through thousands of magazine articles and seminars at outdoor expositions.
On January 4, 1990, Chuck Adams became the first archer to complete the fabled super slam – harvesting all North American big-game species with a bow.
His name appears more times than any other hunter in the Pope and Young record book, with more than 100.
His first book, Super Slam!: Adventures with North American Big Game published in 2008, retraces Adams' epic journey to take all North American big-game species with a bow.
He is a member of the Bowhunters Hall of Fame and Safari Club International Bowhunters Hall of Honor and his name is on the Pope and Young Ishi Award.
Gregg Gutshow, author of Adams' biography Life at Full Draw: The Chuck Adams Story (www.ihuntbooks.com), knows Adams like few others.
"We as bowhunters and the bowhunting industry are extremely fortunate to have had Chuck Adams as a bowhunting partner," Gutshow said. "Bowhunting as a sport has undoubtedly benefitted greatly as a result of Chuck's writings and promotion of bowhunting, especially his promotion of the compound bow. Chuck is forever tied to the growth of the sport.
"We bowhunters also have benefitted similarly from Chuck's communications. How many bowhunters have learned lessons by reading Chuck's books and magazine articles? Bowhunting equipment manufacturers have also benefitted from Chuck's knowledge and input into equipment design."
As the late Dave Staples, former president of the Archery Hall of Fame and Museum said, when the first Fred Bear Award was presented to Jim Dougherty in 2007, "We've turned a page in archery's history with this award.
"Those who communicate the archery and bowhunting story and who are committed to these sports are an integral part of our past, present and future. It's time they are recognized for what they do for the industry."
Save