Brandon Butler and Nathan "Shags" McLeod have teamed up to co-host the Driftwood Outdoors Podcast. Driftwood Outdoors brings listeners information about conservation and outdoor recreation in Missouri and surrounding Midwest states through interviews with an impressive lineup of guests. The duo's entertaining style engages listeners and makes the podcast fun and easy to listen to.
"Missouri provides Shags and I endless opportunities to talk hunting, fishing and so much more with some of the most passionate and dedicated conservationists in the country. We hope to use this new platform to support our state and the natural resources we are both so passionate about," Butler said.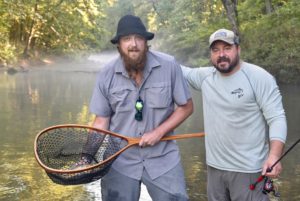 The first 10 episodes of Driftwood Outdoors have already been released are currently available for streaming or download.
Episode 1: Missouri Hunting Heritage Federation with Lee Vogel
Episode 2: Land Learning Foundation with Zach Morris and Scott Martin
Episode 3: Missouri River Relief with Steve Schnarr and Jeff "Boot" Barrow
Episode 4: MDC Communications with Lucas Bond and Joe Jerek
Episode 5: Fly Fishing the Eleven Point River with guide Brian Sloss.
Episode 6: Fresh Water Fishing Hall of Fame Communicator: Bill Cooper
Episode 7: Missouri Exit Interview with Quail Forever's John Wallace
Episode 8: Logboat Brewing Company Captains: Tyson Hunt and Judson Ball
Episode 9: Current River fishing with Damon Spurgeon of Cardiac Mountain Outfitters
Episode 10: The Most Interesting Man in Missouri: Mark Van Patten
"Butler and I love telling stories, and no stories are better than hunting and fishing stories. If you care about the outdoors in Missouri, we hope you'll give Driftwood Outdoors a listen, and if you like what you hear, please subscribe and share the podcast with your family and friends," McLeod said.
The podcast is available on the Driftwood Outdoors website (www.driftwoodoutdoors.com), and all major podcast platforms. New episodes are released every Tuesday morning. Subscribe and never miss an episode.
Brandon Butler – bbutler@driftwoodoutdoors.com
Nathan McLeod – nmcleod@driftwoodoutdoors.com
www.driftwoodoutdoors.com
https://www.facebook.com/DriftwoodOutdoors/
https://www.instagram.com/driftwood_outdoors_podcast/