One lucky media member participating in the inaugural Shooting Sports Showcase will become the proud owner of a Quantum Series AR-15 from Blackout Defense. The rifle has an MSRP of $2,350. "We are extremely excited about the focused exposure we will receive at the Shooting Sports Showcase," said Blackout Defense President Brooke Afshari. "The private time with the media, as well as wholesalers, is an incredible opportunity for our growing business."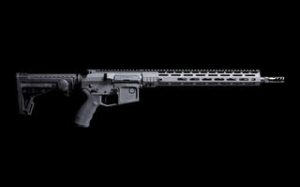 From the barrel to the receiver, every major component of the Quantum rifle is manufactured by Blackout Defense in its state-of-the-art facility. This allows for maximum control of the process and satisfaction of the company's exacting tolerances. The Quantum lower receiver features patented PressLock technology, which creates a rigid platform and rattle-free fit with the upper.
Hosted by the Professional Outdoor Media Association, the Southeastern Outdoor Press Association, and the National Association of Sporting Goods Wholesalers, the Shooting Sports Showcase is an industry-exclusive event designed to give firearm industry representatives a day to showcase new products to members of the media, dealers, and wholesalers. Sponsors and exhibitors include American Tactical Inc., Bangers USA, Bergara, Blackout Defense, Bowden Tactical, Century Arms, CVA, Dark Storm Industries LLC, DRD Tactical, Fiocchi of America, GLOCK, Inc, Leupold, Mantis, MKS Supply, Otis Technology, Savage Arms, Smith's Consumer Products, Inc., Sol Invictus Arms, Taylor's Firearms, Sure-Shot Game Calls, and XS Sights.
Space is limited and pre-registration is required. Click HERE to register.
To inquire about sponsorship, please contact Thomas MacAulay.
About CMP – Talladega Marksmanship Park
* The Blackout Defense rifle pictured here is the Quantum Mark 1. Depending upon availability, the actual prize will be either a Mark 1 or the new Mark 2.