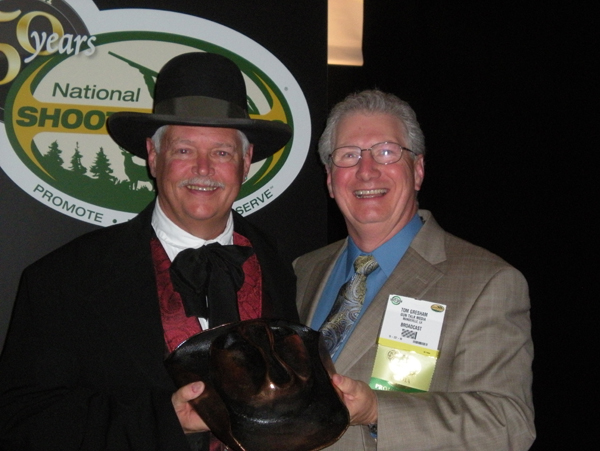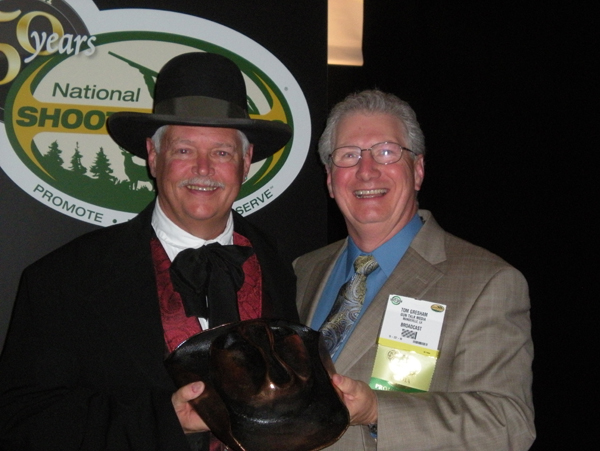 Michael Bane was humbled to the point of speechlessness … impossible … but close.
The Professional Outdoor Media Association (POMA) and the National Shooting Sports Foundation (NSSF) honored veteran journalist Bane with the prestigious POMA/NSSF Grits Gresham Shooting Sports Communicator Award during the Shooting Hunting Outdoor Trade (SHOT) Show State of the Industry dinner. Tom Gresham presented the award.
When informed he'd be honored, Bane's usual edgy barrage of commentary was stilled, for a few moments.
"I'm honored, almost to the point of speechlessness, which is abnormal for me," Bane admitted. "Within my field, the field of media, this is the preeminent award. Selection means you have the respect of your peers, and that means so much to me.
"A lot of what I've done is take risks, as an early adopter of new media. I'm honored that POMA and NSSF look out there and recognize new media."
In honor of legendary outdoor communicator Grits Gresham, POMA and the NSSF developed the Grits Gresham Shooting Sports Communicator Award in 2005. It recognizes communicators within the firearms/shooting sports/Second Amendment arena who grasp the ideals, foster the commitment, and display the talent Gresham showed during his storied career.
Bane's biography reads like an adventure novel. His escapades climbing big mountains, scuba diving flooded cave systems and kayaking spectacular rivers around the world have been chronicled in such magazines as National Geographic Adventure, Men's Journal, Men's Fitness and hundreds of others. Additionally, he's authored 21 books, including Over The Edge: A Regular Guy's Odyssey In Extreme Sports.
However, it's Bane's moniker as a shooter and his multi-media vision and expertise that found him center stage and being honored as the 2011 Grits Gresham Shooting Sports Communicator.
"Michael has been a pioneer in firearms multimedia for years. From magazine articles, books and television shows to podcasts, online videos and a daily blog, he is a leader when covering competition, self-defense with firearms, gun news, and always strongly supporting gun rights," Tom Gresham said.
"I'm especially happy to have the award go to a media veteran who explores all aspects of responsible gun use. Just as my father (Grits) was a pioneer in bringing the message of shooting and conservation to the public through network television, Michael spreads the word, and introduces new people to our sport, using all forms of new media. Michael promotes the basic message that others would do well to follow – that no matter what kind of gun you are using, shooting is fun!"
"As a television show, website and podcast host, blogger and exceptional writer, Michael embodies the new breed of media professional who is adept at using all the tools at his disposal to reach gun owners, shooters and hunters with news they need to know," added NSSF President and CEO Steve Sanetti.
"His work with NSSF's Media Education Seminars program helped journalists from major news organizations better understand firearms and firearm issues and continues to have a positive effect on media stories to this day. Michael joins a prestigious list of communicators who have earned this award, and he is most deserving of it."
Bane, a five-time Telly Award winner for excellence in cable television programming, is the
Executive producer and host of Shooting Gallery, now filming its eleventh season
Executive producer of Cowboys, which just aired for a seventh season
Executive producer and co-host of The Best Defense, in its third season
Executive producer and co-host of the two-year-old TBD/Survival
Co-founder of Down Range TV (www.downrange.tv) the largest firearms video website 2006, now owned by Outdoor Channel
 Host of Down Range Radio, established in 2006 and one of the top firearms-related weekly podcasts
Author of The Michael Bane Blog, established 2004 and heavily followed by outdoor enthusiasts, and
 Host of Weekly News (www.OutdoorChannel.com), a weekly firearms-related video podcast and
Executive producer of two new television series, Gun Stories and Big Bore Chronicles, slated to air in late 2011
Nominations for the Grits Gresham Shooting Sports Communicator Award come from all corners of the shooting sports industry. Affiliation with a communications or industry organization is not required. Shooting sports industry professionals are encouraged to make nominations through the POMA website.
Save