POMA Insight Sessions

*Registration information can be found on the Schedule tab.
POMA is proud to announce that we're bringing educational sessions right to our members' desktops with the introduction of POMA Insight Sessions – a year-round way to keep on top of the latest tips, tactics and strategies to excel business, leadership, sales and more.
Insight Sessions are free to POMA members and will be archived on the POMA member website under the Services tab.
Registration confirmations will be emailed to attendees upon submission of registration form and will include the information needed to log on the the Zoom session. Please check spam and junk folders if you don't receive the confirmation.
Recordings will be available to registrants approximately one week after the event.
Questions? Contact POMA.
We have more Insight Sessions in the works, and details will be announced as they're finalized.

*Insight Sessions are free for POMA members. Non-members – $49 per session
---
How to Lead Your Hunting Audience in the Fight Against CWD
Every hunter can contribute to stopping the spread of chronic wasting disease (CWD) among deer and elk, and the media can be leaders in showing them how. This session will provide communicators and influencers with guidelines and action items to share with their audiences that will bring more hunters into the fight against CWD.
---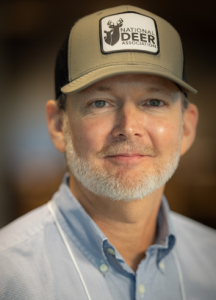 Lindsay Thomas Jr.
Lindsay Thomas Jr. is the Chief Communications Officer for the National Deer Association, a non-profit organization working to ensure the future of wild deer, wildlife habitat and hunting. He is a long-time POMA member and a member of the POMA Board of Directors.