POMA Business Conference
For the three days of POMA's annual business conference, the top outdoor media, brands and conservation organizations network, test new products, learn and prepare for the next year ahead. As a brand, this is a relaxed atmosphere to communicate your key messages to media and build the relationships that will grow your business exponentially. As a media member, there is no better opportunity to network for jobs, freelance opportunities, and opportunities for the year to come.
#POMA2020 – The virtual conference takes place August 11 & 12, 2020. We're confident that the lineup of sessions and speakers will match those that we offer at our physical events. Registration is now open – we look forward to seeing you there!
Physical Conference – POMA is committed to amazing events and continuing to raise the bar on business education and growth, networking, and content gathering. Our 15th Annual Business Conference has been postponed until February 1 – 3, 2021 in Franklin, Tennessee. Details will be coming soon.
Our in-person event includes:
• High-level business-building tracks focused on increasing business and new media
• Product testing venues: POMA Camps/Product Showcase and Shooting Day
• Networking gatherings where media and industry come together to share ideas, develop content, and build business
• Student mentoring
• Generation of on-the-spot editorial content
• Hospitality, phenomenal food, great locations, and
• Much more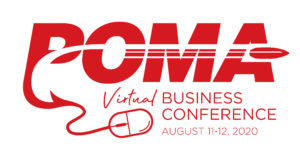 POMA is pivoting for 2020 and adding a two-day virtual conference to help members, Corporate Partners, content creators and companies thrive during this uncertain time. Topics covered include: working with content creators, building a website, engaging with your audience in a post-COVID world and much more.
The first day will conclude with 'happy hour'/networking time and the end of the second day will see a "moving forward/takeaways," where we'll encourage members to connect with one another away from the conference.
All times below are Eastern Time  (See the schedule with all time zones listed)


August 11, 2020

Time
Session Information
11:00  – 11:15 am
Conference Introduction
11:15 am – 12:15 pm
Industry Update Panel (Mitch Strobl, Kristi Heurig, Kenyon Gleason, and Jen Ripple)
12:30 – 1:30 pm
We Need to Have a Conversation (Andy Anderson, Holly Higgins, Bill Roden and Nicole Qualtieri)

The past few months have forced us to review our own actions – as well as our business's. We know things need to change – but how? What does the future hold for outdoor media? How do you change the narrative to create an even stronger brand? Explore this and much more with experts in marketing, content development and business management.

1:30 – 2:30 pm
LUNCH BREAK
2:30 – 3:30 pm
Let's Build a WordPress Site in an Hour! Yoon Kim, Outdoor Media Summit

We're going to build a WordPress site in an hour. We'll start from buying the domain, setting up hosting, pointing to your new host, installing WordPress, installing a theme and customizing the theme. Hang in there because it's going to be fast.

3:45 – 4:45 pm
Working with Content Creators: Jason Nash, Federal Ammunition

Nash will share his experiences from the outdoor industry and beyond of how to effectively work with content creators in today's world. From budgets to contracts; and negotiations and tough conversations, Nash will provide how to forge quality relationships that help your brand and business thrive during these times.

4:45 – 5:45 pm
Affiliate Marketing 101: Gary Marcoccia, Gravity Fed

This session will cover the basics of affiliate marketing, aka "performance marketing" for retailers and direct to consumer brands. We will look broadly at how you can leverage the channel to drive both sales and new customer acquisitions through different partnership types, as well as tips and best practices for successfully managing affiliate programs that move the needle and impact the bottom line.

6:00 – 7:00 pm
Happy Hour Networking
7:00 – 8:00 pm
Award presentations

Members will be recognized in the category's of Art/Photography, Book, Broadcast, Conservation, Magazine, and Newspaper/Web.

August 12, 2020

Time
Session Information


11:00 am – 12:00 pm
R3/Field to Fork – Jim Curcuruto (NSSF) and Hank Forester (QDMA)

As with any crisis, opportunities arise. COVID-19 has certainly had many negative effects however an unexpected consequence of quarantines and social distancing is that many people have been driven  to the outdoors. An additional surprise from COVID has been record firearm sales and NSSF estimates that there are nearly 5 million new gun owners in 2020, many of which are asking; What now? It is imperative that the hunting and target shooting community engage these new found outdoorsmen and women and new gun owners. Fortunately there are ready-made programs available to help recruit these folks. Join NSSF's Director of Research and Market Development, Jim Curcuruto and QDMA's Assistant Director of Hunting Heritage Programs as they discuss the +ONESM Movement and the Field to Fork program.

12:00 – 12:45 pm
Keep What You Kill: Chuck Granade, CRRNT

Successful brands have to do a lot right to acquire and keep customers in an increasingly multi-tasking and socially distant world. This presentation will cover what it takes to keep your future fan, follower or customer engaged after the hard work of acquiring them is accomplished. Topical buckets included are brand, digital/social marketing & emerging technologies.

1:00 – 1:45 pm
Break out groups – sharing what was learned – takeaways
Andy Anderson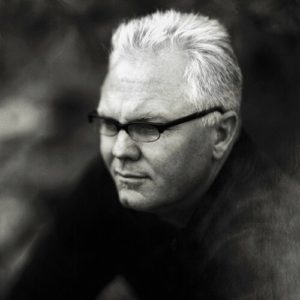 Andy Anderson is an award-winning photographer whose clients include: The US Army and Marines, Dodge RAM (Andy was honored to participate in the "God Made a Farmer" RAM Trucks Super Bowl XLVII ad project, which featured many of his images), Emirates Air, Barbados Tourism, Fiji Tourism, GoRV, Beretta, Nebraska Tourism, YETI coolers, Harley Davidson, Hummer, Kodak, and numerous state tourism campaigns. His editorial clients include Outside, Stern, Audubon, Condé Nast Traveler, Garden & Gun and Town & Country to name a few.
He recently finished a three-year project documenting all things Beretta for the newly released book Beretta: 500 years of the Sporting Life, published by Rizolli. Rizolli also published a book of Andy's fishing images called Salt. He was also given the opportunity to be one of twelve select photographers invited to document the XIX Olympic Winter Games in Salt Lake City.
Andy grew up in St. Cloud, Florida and currently lives in Mountain Home, Idaho with his wife and kids. When not traveling on assignment, he can often be found with his bird dog on hunting or fly fishing trips.
---
Jim Curcuruto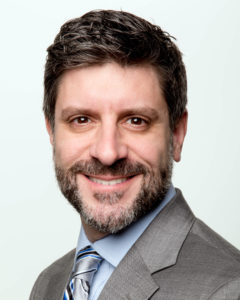 Jim Curcuruto is currently serving as the director of research and market development for National Shooting Sports Foundation. With NSSF since 2009, Jim has worked tirelessly to provide insights to NSSF members and the industry to gain an improved understanding of consumers resulting in increased sales and participation in hunting and target shooting.
His work has been referenced hundreds of times in corporate annual reports, newspapers, television and other media.  He has served as an expert witness in several high-profile state and federal court cases working to retain the rights of gun owners and sportsmen. 
Jim is also responsible for several of NSSF's R3 initiatives and has developed strategic partnerships and programs such as Partner with a PayerSM with a goal to scale the R3 model and increase overall participation.
Growing up in Putnam County, NY, Jim spent a majority of his youth fishing for largemouth bass and brook trout and hunting ruffed grouse and whitetails and now enjoys spending his time passing on these traditions to his teenaged sons.
---
Hank Forester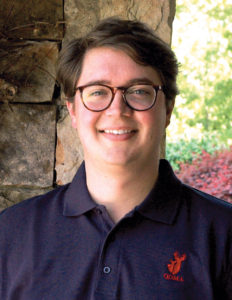 Hank is the founder of QDMA's Field to Fork and a national advocate for food-focused hunting and R3.
---
Chuck Granade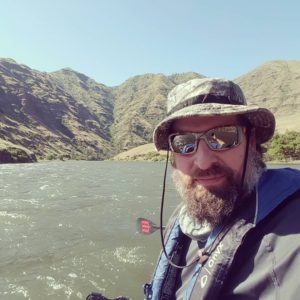 Chuck's professional career has spanned digital marketing, consulting, military, and sport. He ran global digital agency accounts for over 15 years before starting CRRNT in 2014. CRRNT is a boutique agency focused on facilitating growth through a combination of agency services, strategic consulting, and emerging technologies. As part of CRRNT, Chuck is CEO of The New Blank, a branding, motion graphics & video production studio. A combined list of notable clients include XBOX, Electronic Arts, AT&T, Ubisoft, Adidas, Seattle Seahawks, NFL, Seattle Sounders, ABC, CMA Fest, National Geographic, Accenture, and Amazon.
---
Kristi Heuring
Kristi Heuring, a Tennessee native and now Texan, is a 26-year marketing veteran, 16-year industry veteran and is currently the Chief Marketing Officer for Everest.com, the first-of-its-kind online community and marketplace specifically for the outdoors world.  Kristi's prior experience includes leading the marketing efforts for Aguila Ammunition where she launched their first U.S. branding campaign as well as producing the inaugural Aguila Cup.  Kristi's industry experience also includes Aimpoint Red Dot Sights, International Hunter Education Association, National Bowhunter Education Association and Blaser/Sauer/Mauser.  Kristi attended her first POMA conference in 2009 and has always been a proud supporter of the organization.
Kristi grew up in a outdoors family that owned a hunting and fishing store, so she quickly understood the importance of conservation, fair chase and firearms safety as well as realizing that hunting and fishing isn't just about what you harvest, but about the time spent with family and friends while enjoying the outdoors. 
Kristi shares her love of the outdoors with her two teenage kids and husband who is a master-class sporting clays shooter, avid duck hunter and saltwater fisherman.
---
Holly Higgins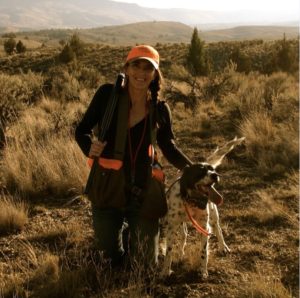 Wildlife biologist specializing in sage-steppe species conservation, restoration of sagebrush and aspen habitats, and post-fire revegetation. I am a proud "bird nerd", native plant enthusiast, student of ecological function, and lover of all things wild. I am also an obessive upland bird hunter, dog trainer in training, bonafide setter lady, horseback field trial competitor, admirer of fine double guns, enjoyer of good wine and Kentucky bourbon, and happiest when I am following my English setters over the hill and onto the next horizon in search of the next chukar covey.
---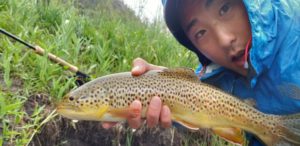 Yoon Kim
Yoon is a long-time journalist, founder of Blogs for Brands, a media agency in the outdoor industry, and producer of Outdoor Media Summit, the conference for media and marketers in outdoor. When not hunched over a dimly lit laptop, working on projects, you can find him at his dad's farm, reeling in massive smallmouth or traveling the world, chasing salmonids of every kind.
---
G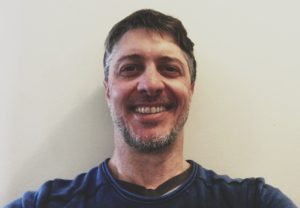 ary Marcoccia
Gary Marcoccia is a digital marketer, storyteller, and entrepreneur with two decades of experience, both client and agency side, focused on strategy and customer acquisition by way of performance attribution and social media marketing. He's the co-founder of GravityFed.com, an influencer and affiliate marketing platform that services outdoor and adventure lifestyle brands, and the creator of several popular outdoor-lifestyle social media communities and websites.
---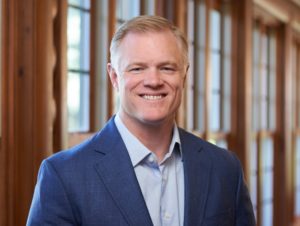 Jason Nash

Jason Nash is Vice President of Marketing for Federal, CCI and Speer Ammunition. He has 23 years of diverse marketing experience primarily in the hunting, shooting and outdoor space. He leads a team of 40 people managing marketing strategy, products, media, conservation, creative, digital, events, insights and e-commerce.  
Nash is known for his strategic thinking, effective written communication and team building. He is also a proponent of great storytelling and collaboration with non-profit organizations, social media influencers, traditional media and lifestyle brands like MeatEater and Black Rifle Coffee Company. He serves on the board of directors for Kids & Clays, a youth shooting organization that benefits Ronald McDonald House Charities and the Northern Star Council of Scouting. Nash earned a BA in Communications from the University of Minnesota and an Executive MBA from the Carlson School of Management. He has also completed executive courses at Harvard Business School and Chicago Booth. He enjoys hunting, fishing, shooting and exercise and has three daughters who are learning to love the outdoors.
---
Nicole Qualtieri
Nicole Qualtieri is GearJunkie's Hunt & Fish Editor. Previously of MeatEater and Backcountry Hunters & Anglers, Nicole is a non-traditional, first-generation hunter & angler. Her passion lies in connecting outdoor recreation to the hunting and fishing spaces and creating social, visual, and written media that best speaks to the non-hunting public at large. 
Located in Butte, Montana, Qualtieri is an avid outdoorswoman and equestrian. She spends most of her free time aboard a little brown mustang with a border collie named Butch trailing close behind, she loves fly-fishing high alpine glacial waters, and she's always looking forward to the late fall mule deer rut in eastern Montana. 
---
Bill Roden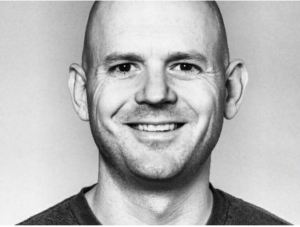 Bill's personal and professional lives are dedicated to the outdoors. He's an angler, climber, hunter, skier, cyclist, runner, swimmer, competitive bike racer, biathlete, ultramarathoner, biathlete, and adventure racer. When he's not working.
He also has over 25 years of experience building award-winning work for the world's largest brands, with a strong focus on outdoor brands. His professional passion lies in fostering a more welcoming and diverse change in outdoor culture while helping outdoor brands win the hearts and minds of today's modern audience.
Bill's podcast, The Tailgate Podcast, with co-host Andy Anderson, is first and only marketing podcast for hunting and angling brands to highlight the need for cultural change and greater innovation.
---
Mitch Strobl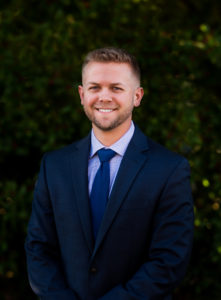 Mitch Strobl resides in Dallas, Texas with his wife Stephanie and Daughter Savannah. An avid outdoorsman, Mitch loves to spend his time fishing, hunting, shooting, and hiking. He started his professional career as a POMA intern, which led to a full time position with Kalkomey Enterprises, a software company that supports state and federal fish & wildlife agencies. As Kalkomey's VP of Agency Relations, Mitch works directly with state agency decision makers to better understand their needs, which in turn drives Kalkomey's product offering and roadmap. Today, Kalkomey offers a wide range of outdoors safety certification courses such as hunter ed, concealed carry, boater ed, and more. Additionally, the company contracts with states to provide hunting and fishing license sales software to support online and in-store license sales. 
What is POMA Camps/Product Showcase?
POMA Camps/Product Showcase is a day in the field to test products that are not shooting related. You can test drive the newest trucks from Corporate Partners like Nissan, Ram, and Toyota, take ATVs for a spin, shoot crossbows and airguns, and much, much more. This is the perfect time to connect with POMA's Corporate Partners, for them to show you their products and answer any questions you might have.
Corporate Partners who don't have interactive products can take advantage of static displays to provide information on their products and/or services. This is an excellent chance for attendees to talk with each other one-on-one about content needs and how they can work together to fill those needs.
What guns are available to shoot at Shooting Day?
At Shooting Day our Corporate Partners bring their A-game with shotguns, pistols, muzzleloaders, and rifles. We have had everything from Kimber's .300 Blackout to CVA's .50 caliber muzzleloader, Bergara's latest and greatest shooting technology, and even fully automatic weapons. Pistols of every make and model make an appearance and the shotguns never disappoint. Ammunition manufacturers,  including Winchester and Aguila, often make sure there is no shortage of lead headed downrange.
Who can I network with?
At POMA, you can network with everyone, and we mean everyone. From industry-leading magazine editors, film producers, photographers, writers, Corporate Partners, social influencers and more. If you've ever thought, I wish I had their email, you can probably track it, and better yet its owner, down at our conference.
I am a student, should I still attend?
YES! POMA members are always looking to bring new professionals into the industry and mentor young media producers. As long as you are 18, POMA is among the best places to get your foot in the door of the outdoor industry. Reach out as we often have scholarship opportunities.
PAST CONFERENCE SITES
2019 Wichita, KS
2018 Lincoln, NE
2017 Shreveport-Bossier, LA
2016 Kalispell, MT
2015 Springfield, MO
2014 Knoxville, TN
2013 Columbia, SC
2012 Tunica, MS
2011 Ogden, UT
2010 LaPorte, IN
2009 St. Louis, MO
2008 Sioux Falls, SD
2007 Visit Minneapolis North, MN
2006 Springfield, MO
Save
Save
Save
Save
Save