Frequently Asked Questions (FAQ)
What are the benefits of belonging to POMA?
I'm a member, how do I log in?
I forgot my password, how do I reset it?
How do I upload a profile picture?
How do I download member directories?
---
How do I join POMA?
Joining POMA is easy. Review our membership classes and criteria requirements to determine which fits your qualifications best, then complete the application.
---



What are the benefits of belonging to POMA?
POMA membership comes with many benefits. From connecting with other influencers and industry partners to Money Line job listings and our annual business conference, your organization works hard to help you grow your business.
Membership Benefits:
POMA has brainstormed and implemented some of the most innovative membership benefits of any media organization in existence. Take a look at just some of what POMA is doing for you.
Welcome Packet: New and renewing members receive a welcome packet that includes a hard-plastic POMA ID card, decals and additional membership information. Carry the ID card in a wallet or purse or have the card punched so it can be worn on a clip lanyard as a conference/trade show badge.
Membership Card: POMA's press card may save you money if you're traveling with camera or video gear. Many airlines offer discounts to members of the press. See the airline baggage discounts information under the Services tab on the website for guidelines. Always check with the airline for their policy before making arrangements.
Website: POMA's Web presence is split into two sections, one for the public and one for members. The public site (www.professionaloutdoormedia.org) provides a general overview of POMA, the Mission Statement, Irrevocable Charter, bylaws, membership criteria, membership applications and secure dues payment. The member website requires login credentials (email address and password) to access. It houses all information pertinent to members.
POMA Briefs: The organization newsletter is emailed to members weekly. Each news article included in the news briefs is archived on the member website. New members are encouraged to read through archived services posts to become familiar with organization news and services.
CP News: Corporate Partners receive special coverage in POMA Briefs and on the member website via CP News. News articles and information are generated by the CP Advisory Council, and from CPs themselves via postings on the website.
Annual Business Conference: Conference incorporates educational and field events for the purpose of helping all members grow their businesses.
Money Line: Job opportunities and market listings are posted on the member website in the Money Line section of the Services tab. A notice of new postings is emailed to members. Often, POMA members have access to the opportunities before they are listed publicly. This service isn't just for media members. Career opportunities for PR specialists, graphic designers, sales and marketing professionals, and more are regularly included.
Member News: This section of the website highlights member accomplishments. Post your news to the POMA website, and it goes out in the next weekly edition of POMA Briefs, to all members.
Member Directories: Amazing directory upgrades have been built into the new website. You can now perform advances searches of the member database by many different criteria or download up-to-date .csv (Excel) versions of the directory from the website in seconds, on demand.
POMA<25: Created especially for young professionals under 25. This program focuses on the needs of young professionals including journalists, marketing and communications people. POMA <25 provides a way for them to network and build relationships now that will serve the industry later as they move up the corporate and freelance ladders and lead our industry into the future.
Individual POMA Email Address: Members may request a personalized email address. Yourname@professionaloutdoormedia.org or any other username@professionaloutdoormedia.org may be requested. There is no charge for the address. Email can be accessed via the Web or with POP3 access.
Trade Partnerships: POMA is the first and only media organization to become a member of the National Shooting Sports Foundation (NSSF), Archery Trade Association (ATA) and American Sportfishing Association (ASA). Membership in these organizations has helped POMA to establish mutually beneficial partnerships with these key trade groups. POMA is committed to having an annual presence at these organizations' trade shows to interact with POMA members in attendance.
POMA/NSSF Grits Gresham Communicator Award; POMA Homer Circle Fishing Communicator Award and the POMA Fred Bear Archery & Bowhunting Award: These prestigious awards were developed through partnerships with the National Shooting Sports Foundation, Recreational Boating and Fishing Foundation and Archery Trade Association. The awards are presented at premier functions throughout the year. They honor journalists who embody the talent, spirit and commitment to their sports as defined by the award namesakes.
---
I'm a member, how do I log in?
Logging in is as easy as 1, 2, 3:
1. Go to www.professionaloutdoormedia.org, and a login box will appear.
2. Enter your email address and password.
3. Click the Login button.
---
I forgot my password, how do I reset it?
1. Click Forgot Password in the upper left corner of the POMA home page:
http://www.professionaloutdoormedia.org/
2. Click Forgot Password (blue text):

3. Enter the email address and password that you use to access your account on POMA's CRM (Wild Apricot) and click "Reset My Password". If you need to change the email address on file, please contact POMA at admin@professionaloutdoormedia.org.
4. You will be sent an email with instructions on how to reset your password and see this information on your screen:

5. Once you've received the email and clicked the link to reset your password, enter the new password as instructed, and click "Set new password". You will be redirected to POMA's home page, where you can log in with your email address and new password.
---
How do I update my profile?
To edit your profile, complete the following steps.
1.  Log in to the member website using your username and password.
2.  Click the "Update Profile" link right below displayed username.
3.  Select "Edit Profile" and make any necessary changes to your email address, password or to add or edit a profile picture. 
4.  Click "Save" at the bottom of the page to save the changes.
---
How do I change my password?
To change your password, complete the following steps.
1. Log in to the member website using your username and password.
2. Click the "Update Profile" link right below displayed username.
3. Click "Home".

4. Click "Change password". Enter your current password and new password in the boxes as prompted.

5. Click "Save" at the bottom of the page to save the changes.
---
How do I upload a profile picture?
Don't be an anonymous blue blob! Upload a profile picture so that your fellow POMA members will have a face to put with your name.

Follow the instructions above to edit your profile, then scroll to the bottom of the page and find Profile Picture. Click Choose File, and you'll be prompted to find the image's location on your computer. Select the file and upload it to the site. Images will display at 110 x 110 pixels maximum, so you may want to resize your image before uploading.
Click "Save" to save the image.
---
How do I download member directories?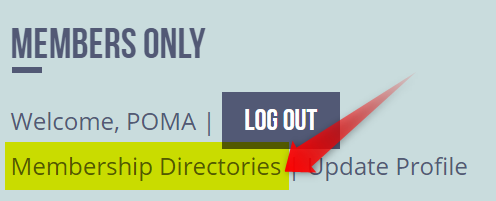 Member directories are available on demand from the member website.  Simply click Membership Directories link.  The chosen directory provides you the opportunity to search, print or download in .csv (Excel) format.
---
How do I post member news?
Posting member news to the site is a great way to share with your fellow members, and others in the industry, your press releases, news or accomplishments. News items reside on the POMA website, are included in weekly POMA Briefs and we share them across POMA's social networks as well.
You can find a step-by-step tutorial here. Don't forget to include images!
---