Doug Olander Receives 2014 POMA/ASA Homer Circle Fishing Communicator Award
The Professional Outdoor Media Association (POMA) and the American Sportfishing Association's (ASA) prestigious Homer Circle Fishing Communicator Award was presented to Doug Olander, outdoor writer, conservation advocate and editor-in-chief of Sport Fishing magazine.
The POMA/ASA Homer Circle Fishing Communicator Award recognizes a journalist who exemplifies the spirit, dedication to fishing, extraordinary talent, and commitment to mentoring the next generation of sport-fishing communicators as displayed by the legendary outdoor journalist Homer Circle during his storied career.
The award was presented July 15, during the International Convention of Allied Sportfishing Trades (ICAST), produced by ASA, the sportfishing industry's trade association. POMA is the premier professional association representing the traditional outdoor sports media.
"I believe our sport is facing unprecedented challenges," said Olander, "with the opportunity to fish and quality of fishing threatened, sometimes intentionally, but more often as collateral damage in a rapidly changing world. Whether the sport is our livelihood or something we live to enjoy, it's worth fighting for. That doctrine has guided my efforts and opportunities to influence public policy and perception throughout my career. I'm flattered that those efforts have been judged worthy of this tremendous recognition."
Since 1995, Olander has served as editor-in-chief for Sport Fishing, one of the world's leading saltwater fishing publications and multi-channel content providers. Under his direction, Sport Fishing magazine increased its circulation dramatically through editorial excellence and its ability to meet the information needs of its readers.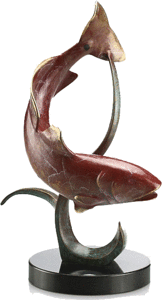 "Although many people share Doug's lifelong passion for fishing and boating, it's his crusading spirit and a willingness to use his editorial skills to lead the debate on issues facing the recreational fishing and boating community that make him a natural for this honor," said ASA President and CEO Mike Nussman.
Olander was one of the first individuals in the U.S. to recognize and write about the PEW Environment Group's efforts to establish Australia's Great Barrier Reef as one vast no-fishing zone. He has also highlighted critical issues involving saltwater fisheries management in the U.S., explaining those issues clearly and succinctly for recreational anglers everywhere.
Olander has been honored with numerous other awards of excellence from BoatU.S., several international, regional and state writers' organizations and the Florida Magazine Association. His writing has been featured in USA Today. Doug has served as a representative for the International Game Fish Association since 1985, and has held a number of all-tackle and line-class world records.
"As a mentor, Doug's contributions to the careers of many of our industry's best communicators are impressive," said Laurie Lee Dovey, CEO of POMA. "As an editor, he helps veterans and up-and-comers hone their skills, passions and commitments to excellence. Through his writing and leadership, Doug inspires us all to be better at our craft."
POMA accepts nominations year round for the Homer Circle Fishing Communicator Award. Nominees are not required to be affiliated with a communicator's organization. The award is presented as deemed appropriate, not necessarily annually, during ICAST.
---
Professional Outdoor Media Association is the premier professional organization in the traditional outdoor sports industry connecting media and industry, helping members grow their businesses and mentoring the next generation of industry communicators. POMA's mission is  foster excellence in communications at all levels, help members build their businesses, connect media and industry, promote fair and honest communication of the traditional outdoor sports and conservation stories, and mentor the next generation of traditional outdoor sports communicators. www.professionaloutdoormedia.org
The American Sportfishing Association (ASA) is the sportfishing industry's trade association committed to representing the interests of the entire sportfishing community. We give the industry a unified voice, speaking out on behalf of sportfishing and boating industries, state and federal natural resource agencies, conservation organizations, angler advocacy groups and outdoor journalists when emerging laws and policies could significantly affect sportfishing business or sportfishing itself. ASA invests in long-term ventures to ensure the industry will remain strong and prosperous, as well as safeguard and promote the enduring social, economic and conservation values of sportfishing in America. ASA also gives America's 60 million anglers a voice in policy decisions that affect their ability to sustainably fish on our nation's waterways through KeepAmericaFishing™, our angler advocacy campaign. America's anglers generate over $48 billion in retail sales with a $115 billion impact on the nation's economy creating employment for more than 828,000 people.Save