POMA Board Service
Directors serve three year terms. Newly elected directors are seated during the summer board meetings at conference.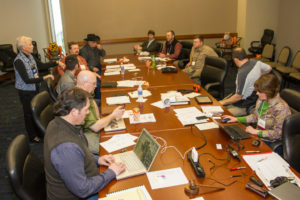 Director responsibilities include:
Setting governance policy for POMA
Attending four board meetings (summer conference meeting and three teleconference meetings)
Sitting on or leading a few committees as the board representative
Assisting with occasional member communications
Implementing and moderating conference sessions
Developing up to four content posts to the POMA website annually
POMA is accepting nominations for the board of directors. Any POMA member may make a nomination.
The Board Nominating Committee accepts the nominations, contacts nominees regarding service and presents a final slate of candidates to the current board for approval.
If you'd like to run for POMA's Board of Directors or would like to nominate a fellow member, simply complete the form below. You may place your name into consideration or nominate another POMA member. All Voting Media Members in good standing are eligible for media member board spots and primary representatives from Corporate Partners in good standing are eligible for CP Director spots.