Using YouTube to Host Video for Your Website Webinar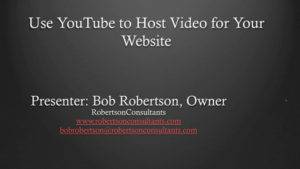 You've created some great video to promote you, your product, or your business. What now? Once of the best ways to use that video is to put it on YouTube. In part two of his video series, Bob Robertson will show you the steps to getting your videos uploaded and optimizing search results.
YouTube can be a very useful tool for hosting video for use on your website. Learn how to upload your videos, link to them or embed them on your website and how to promote them using social media outlets. YouTube also offers opportunities to increase your search presence on Google as well. Join us to learn the basics of YouTube.
---
Bio:
Bob Robertson, founder of RobertsonConsultants, received a B. S. degree in Computer and Information Sciences from the University of Alabama at Birmingham. Seeing the need for a website designer/developer for small to medium businesses in the outdoors industry, Robertson began his company, which now serves multiple industries, in 2006.
This question was asked in addition to those at the end of the webinar, and Bob was gracious enough to answer it after the webinar.
Q: Can you manage multiple projects on Youtube without setting up different e-mail accounts for each one?

A: Currently, each Google ID can have one YouTube Channel. Obviously, you can have many videos under one Google ID, but only one channel. If you want another channel, say one for personal use and one for business use, you would have to have them under separate ID's.
Click the image below to view the webinar.
Save