The Wounded Warrior Project (WWP) is happy to take money from gun companies, but the firearms industry may not use the organization's logo on products or even when holding a fundraiser specifically for WWP. That was just one revelation uncovered when WWP CEO Steven Nardizzi appeared on Tom Gresham's Gun Talk Radio on Nov. 18. Review more details on claims the WWP is anti-gun.
The Wounded Warrior Project (WWP) is happy to take money from gun companies, but the firearms industry may not use the organization's logo on products or even when holding a fundraiser specifically for WWP. That was just one revelation uncovered when WWP CEO Steven Nardizzi appeared on Tom Gresham's Gun Talk Radio on Nov. 18. Review more details on claims the WWP is anti-gun.
Nardizzi agreed to appear on Gresham's show, after the organization initially refused an invitation to appear on the show because it was related to firearms. The snub caused an uproar among gun owners and even the very warriors the organization serves, and serves well. Read the back story below.
On Nov. 13, WWP policy stated: "WWP does not co-brand, create cause marketing campaigns or receive a percentage or a portion of proceeds from companies in which the product or message is sexual, political or religious in nature, or from alcohol or firearms companies." It has since changed. The word firearms has been changed to weapons.
The interview with Nardizzi did little to change Gresham's mind regarding WWP's stance on firearms/weapons. Nardizzi said WWP is happy to take money from gun companies or firearms owners who want to run fundraisers or donate. But, in no instance, is the WWP logo allowed to be placed on firearms, or any weapon, to raise funds for WWP. In fact, firearms/weapons-related fundraisers are not even permitted to use the logo as part of the fund raising activity.
Nardizzi cited non-profit regulations and associated expenses as the reason why WWP will not allow its logo to be associated with firearms/weapons products. When Gresham asked Nardizzi if he would allow use of the logo if the firearms company agreed to pay all costs for legal filings, staff costs, etc. associated with using the logo, Nardizzi did not directly respond.
Listen to the full interview online and make up your own mind regarding WWP's stance on firearms/weapons. The interview begins at the six-minute mark in the podcast file.
---
Wounded Warrior Project Agrees to Appear on Gun Talk
In response to a firestorm of questions about whether or not the Wounded Warrior Project is anti-gun, the organization's CEO Steven Nardizzi has agreed to appear on the Gun Talk Radio show to explain WWP's policy on firearms, working with firearms companies, and more. The appearance follows a week where show host Tom Gresham shared an email exchange with the PR director of WWP in which she indicated that the organization does not do interviews with media or appear at events which are related to guns. Here are the details.
"I'm really glad that the Wounded Warrior Project is coming on the show to clarify their position on this," said radio show host Tom Gresham. "It has been really confusing to see them taking donations from firearms manufacturers as well as hunting groups, and then to be told that they won't appear in public with us. The latest communication from WWP is that this is all a big mistake and that they want to clear it up with me this Sunday."
In its 18th year of national syndication, Tom Gresham's Gun Talk Radio airs live on Sundays from 2-5 p.m. Eastern time, and runs on more than 137 stations, plus on XM (Ch. 165) Satellite Radio. All Gun Talk shows can be downloaded as podcasts at
http://www.guntalk.libsyn.com
and Apple iTunes, or through one of the available Apps: the Gun Talk iPhone App, the Blackberry Podcast App, and the Gun Talk App for Android on Amazon.
Background
When POMA Media Member Tom Gresham reported the Wounded Warrior Project has refused an interview opportunity to promote WWP on Gresham's Gun Talk radio show, because his show was connected to firearms, well, it hit the fan. POMA immediately reached out to WWP's PR person Leslie Coleman. After two days of requests (voice mail and e-mail) from POMA to connect and clarify facts, another WWP representative Ayla Hay responded today (Nov. 14, 2013). Here's the official response verbatim.
---
Wounded Warrior Response
Good afternoon Ms. Dovey,
Leslie Coleman forwarded me your email. Thanks so much for reaching out to Wounded Warrior Project® (WWP) and for providing an opportunity to clarify matters. Let me start off by saying that we have seen through this process that the language on our website and our response to Mr. Gresham wasn't clear and we are working on clarifying our approach. There is now much inaccurate information about WWP being anti-gun rights, an issue as an apolitical organization we do not take a stance on. We understand and appreciate that many of our Alumni are gun owners and we facilitate multiple hunting and outdoor opportunities for our Wounded Warriors throughout the year.
In the past, we made our logo available to appear on wide variety of products, including guns. As an organization, we owe it to our donors and constituents to maximize the return on investment of our dollars and brand. We are always looking at our business practices and whether we should continue with them in the future. In the case of co-branding, we've decided that we're not going to offer our logo to appear on weapons anymore – whether they're guns, knives, bows, swords, or any other type of weapon. There are still a few of the guns around for sale that had licensed our logo years ago, but there aren't any new ones being made. This is purely a business decision based on a review of a return on investment, especially when compared with other types of co-branding ventures.
Regarding the question of donations and events, we do permit fundraisers that are shooting- and gun-related, such as gun raffles, shooting competitions, etc., and we're incredibly appreciative of those who are willing to give their time to host or participate in an event. Likewise, we gratefully accept donations from companies and individuals connected with the gun industry.
As indicated above, we know that hunting and shooting sporting events can be very therapeutic for many of the Wounded Warriors we serve, and we're happy to work with the community to make these types of events available to our Alumni. Hunting and shooting sport enthusiasts are an incredibly supportive and generous community, and we've been honored by how often folks have opened their land and homes, and volunteered their time to make these types of events possible for our Alumni. We certainly regret the appearance of a lack of appreciation for the support the community has given us based on a confusingly communicated business decision.
I hope the above provides some clarity. We welcome the opportunity to have a warrior on Mr. Gresham's show to discuss how hunting or events of the like have supported their recovery. We responded too quickly to his request and should have delved a bit deeper.
---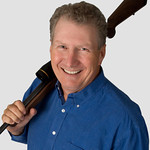 Tom Gresham Responds to WWP Communication Above
Thank you for including me on your email to Laurie Lee Dovey of the Professional Outdoor Media Association.
This afternoon I issued a new invitation to WWP, though an email to Leslie Coleman, to be on my radio show to clarify your position on firearms. I note in your email your interest in being on the show. While it would have been appropriate last week to have a warrior on the show to talk about his or her activities with the WWP, at this point, the story is about your policy.
I would welcome any spokesperson from WWP on the show to talk specifically about the policy about firearms. I certainly will give you the floor to clarify your position. There are many questions, as you know. Nothing in my email exchange with Ms. Coleman was about co-branding. It was clear that the WWP would not appear on my radio show because we talk about firearms. That certainly is your prerogative. There is, however, much confusion with those who have donated to the Wounded Warrior Project (individuals and corporate donors) on what appears to be a discrepancy — WWP will not appear at events or talk to media when it's about firearms, but WWP is okay with taking those donations.
This is the area I'd like to clear up when the Wounded Warrior Project provides a guest.
Please let us know if you can provide someone to address these issues on the show.
Best regards,
Tom Gresham