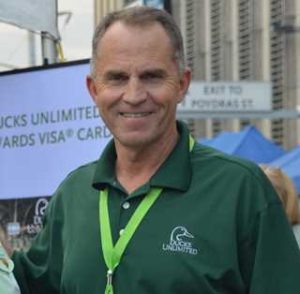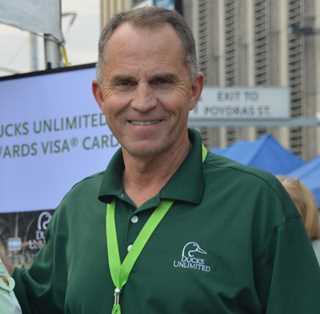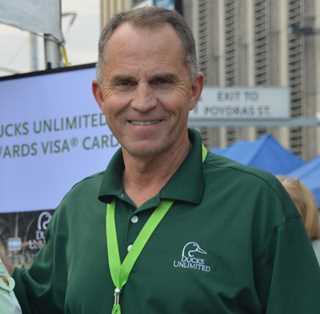 The Arkansas Game and Fish Commission voted in January to rename the Bayou Meto Wildlife Management Area to honor George Dunklin Jr. of Stuttgart.
MEMPHIS, Tennessee – Feb. 06, 2017 – The Arkansas Game and Fish Commission voted in January to rename the Bayou Meto Wildlife Management Area to honor George Dunklin Jr. of Stuttgart. The area's new name officially is the George H. Dunklin Bayou Meto Wildlife Management Area.
AGFC Commissioner Steve Cook made the recommendation. "As our wildlife management staff stated during the meeting, George is very deserving of this honor due to his commitment and passion for waterfowl habitat in Arkansas and all of North America," Cook said. "He has demonstrated this through his work and his personal efforts in his business, with his engagement with DU and with his service at the AGFC. I can think of no other than George that has worked tirelessly in this area of Arkansas for the waterfowl we all enjoy today and will continue to protect and enhance our waterfowl heritage in Arkansas."
Dunklin served on the AGFC commission from 2005-2012 and has served as a DU volunteer more than 30 years, including terms as president and chairman of the board. He made significant contributions to conservation in Arkansas, including improvements to Bayou Meto WMA. During his seven years on the Game and Fish Commission, Dunklin helped steer funds to the WMA, which he deems the crown jewel of all Commission properties, for needed improvements.
"George served effectively as DU's president and chairman of the board, led numerous committees and volunteered countless hours to further the mission of this great organization, and I can't think of a better, more deserving conservationist than George Dunklin to have one of the most famous and popular public hunting areas named in his honor," said DU CEO Dale Hall.
Dunklin is also a farmer in Arkansas' Grand Prairie region. He views conservation as something that goes hand-in-hand with responsible farming.
"Arkansas rice farmers don't just put food on America's dinner tables – they are also leaders in protecting our land and water and being good stewards of the earth," Dunklin said. "As a third generation Arkansas rice producer, clean and ample water is my livelihood. It is the lifeblood for the rice I grow on the Arkansas Grand Prairie, the habitat that we provide for millions of wintering and migrating waterfowl and the drinking water that my family depends on to be safe and secure. The wetlands, bayous and rivers that recharge underground aquifers and help ensure our clean water resources must be properly cared for to provide abundant water supplies for years to come."
Ducks Unlimited Inc. is the world's largest nonprofit organization dedicated to conserving North America's continually disappearing waterfowl habitats. Established in 1937, Ducks Unlimited has conserved more than 13.8 million acres thanks to contributions from more than a million supporters across the continent. Guided by science and dedicated to program efficiency, DU works toward the vision of wetlands sufficient to fill the skies with waterfowl today, tomorrow and forever. For more information on our work, visit www.ducks.org.
Andrea "Andi" Cooper
Communications Specialist
Ducks Unlimited – Southern Region
601-956-1936
acooper@ducks.org
@DUSouthernNews