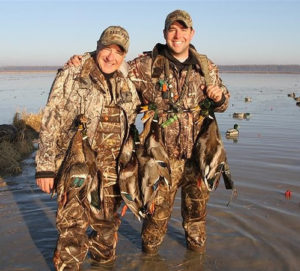 Johnny Morris, founder and CEO of Bass Pro Shops, and his son have been elected as the newest trustees of Wetlands America Trust (WAT).
Wetlands America Trust (WAT) recently elected its newest trustees, Johnny Morris, founder and CEO of Bass Pro Shops, and his son John Paul Morris. The WAT board is the land trust arm of Ducks Unlimited (DU) – a world leader in waterfowl and wetlands conservation.
WAT's principle role is the fiduciary responsibility for DU's endowment and land holdings, including conservation easements. Not only has WAT been successful with this charge, the trustees have individually taken up the mantle to introduce DU and its conservation mission to their friends, family and colleagues.
"With his recent pledge of $1 million, Johnny joins the ranks of some of Ducks Unlimited's most generous supporters," said Steve Maritz, president of WAT. "His support is an excellent expression of his concern and support for North America's wetlands and waterfowl."
A native of the Ozarks, Morris' love for the outdoors started at an early age. His passion was so strong that he began his own business, and in 1974 he printed and mailed his first catalog. From those humble beginnings Bass Pro Shops was born and has become America's premier outdoor retailer with 85 retail stores and Tracker Marine Centers across America and Canada that are visited by more than 116 million people every year.  Morris has made giving back to conservation a hallmark of the company and over the course of several decades, he has dedicated himself to inspiring people, especially youth and families, to love, enjoy and conserve the great outdoors.
"We're honored to be a part of the Wetlands America Trust board. It's exciting to be part of a group that's so dedicated to conservation." Morris said. "The work they are doing to protect our wetlands and ensure a bright future for ducks and other wetland-dependent wildlife is something we are absolutely committed to. Hunting is a great American family tradition, and I am especially proud to serve alongside my son who represents the next generation of sportsmen conservationists."
Along with his personal financial commitments to the organization, DU and Bass Pro Shops have a rich history of working together on behalf of conservation with the most recent project being the Waterfowling Heritage Center in Memphis, Tenn. Bass Pro Shops has given space at their future store in the Memphis Pyramid to create a Waterfowling Heritage Center in cooperation with DU. This unique, interactive museum will serve to inform and entertain millions of visitors, including schoolchildren, shoppers and tourists, who are interested in wildlife and learning the value of hunting and conservation.
For more information about Bass Pro Shops, visit www.basspro.com. For more information about WAT, visit www.ducks.org.
About Ducks Unlimited
Ducks Unlimited Inc. is the world's largest non-profit organization dedicated to conserving North America's continually disappearing waterfowl habitats. Established in 1937, Ducks Unlimited has conserved more than 13 million acres thanks to contributions from more than a million supporters across the continent. Guided by science and dedicated to program efficiency, DU works toward the vision of wetlands sufficient to fill the skies with waterfowl today, tomorrow and forever. For more information on our work, visit www.ducks.org. Connect with us on our Facebook page at facebook.com/DucksUnlimited, follow our tweets at twitter.com/DucksUnlimited and watch DU videos at youtube.com/DucksUnlimitedInc.
About Bass Pro Shops
Bass Pro Shops, which specializes in outdoor fun, operates 85 retail stores and Tracker Marine Centers across America and Canada that are visited by more than 116 million people every year. Bass Pro Shops' stores, many of which feature restaurants, offer hunting, fishing, camping and other outdoor gear while their catalogs and website serve shoppers throughout the world. The company's Tracker Marine Group (http://www.trackermarine.com/), which has produced the number one selling brand of fishing boats for more than 35 years, manufactures and sells a variety of boats for fishing and cruising. Family fun is on tap at Bass Pro Shops' resort Big Cedar Lodge (http://www.bigcedar.com/) voted number six by Travel + Leisure Magazine as World's Best Hotels for Families. For more information, visit http://www.basspro.com/.  To request a free catalog, call 1-800-BASS PRO.  Follow us on Facebook at http://www.facebook.com/bassproshops.