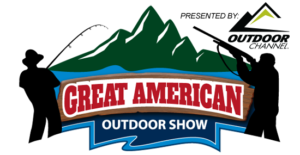 Make sure to stop by and check out great products from
Crosman
at the 2014
Great American Outdoor Show
.
Make sure to stop by and check out great products from
Crosman
at the 2014
Great American Outdoor Show
.
Attendees of the Great American Outdoor Show at the Farm Show Complex Feb. 1-9 in Harrisburg, Pennsylvania will be the first to see the groundbreaking Benjamin Trail with Nitro Piston 2 alongside new airgun, optics and airsoft products from across the company's family of brands.
Visit Crosman Corporation in the Shooting Sports Hall, Booth #736 to see these exciting new additions for hunting, shooting and backyard fun.
"Crosman is leading a new era in American air power at the Great American Outdoor Show," says Crosman Vice President of Marketing, Jennifer Lambert. "We are excited to tell the world about the incredible benefits that Nitro Piston 2 offers – more speed, more power, more accurate, easier to cock, and assembled right here in the USA," she said. "Be among the first to see the newest Benjamin Trail air rifle featuring cutting-edge Nitro Piston 2 powerplant technology when visiting our booth," she added.

According to Crosman Shooting Services Manager and Prostaffer, Mark DeBoard, "We'll be there every day to share the most exciting innovations in airguns, optics and airsoft products, and encourage you to take advantage of our exciting Show Specials," he said. "A portion of the proceeds from each sale made during the show are going to the American Legion Marksmanship program," he added. "The local American Legion chapter helps introduce young people to the sport of shooting and the proceeds will aid in the purchase of Crosman Challenger competition air rifles for their program," DeBoard says.

"Crosman prostaff will be on hand in the booth to talk with you about hunting with Benjamin airguns," said Lambert. "So come on by and talk with them face to face." For a chance to win a Crosmaniac Prize Pack, spend a moment and take a photo with Crosman Prostaffer Mark DeBoard while you're in the booth. "Post the photo to Twitter with hashtag #takeitoutside to enter the contest," Lambert said.
For additional information visit www.crosman.com, or write to Laura Evans, Marketing Coordinator, Crosman Corporation, 7629 Routes 5 & 20, Bloomfield, NY 14469, email her at levans@crosman.com, or call her at (800) 7 – AIRGUN (724-7486). For up-to-the-minute news from Crosman Corporation, follow us on Twitter (http://twitter.com/crosmancorp) and Facebook (http://facebook.com/crosmancorp).