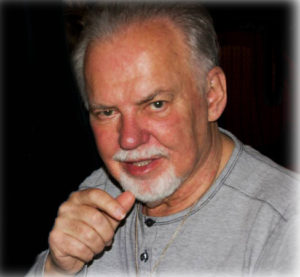 Thomas D. Fegely, 72, of Whitehall, PA, wrote his last earthly chapter on Dec. 17, 2013 when he passed away peacefully at home surrounded by caring and love.
Thomas D. Fegely, 72, of Whitehall, PA, wrote his last earthly chapter on Dec. 17, 2013 when he passed away peacefully at home surrounded by caring and love. He was the husband of Betty Lou (Heintzelman) Fegely, with whom he shared 32 years of adventures.
Tom was born at home in the small Lehigh County farming community of Limeport, Pa. on August, 8, 1941. He was the son of the late Homer and Marie (Schware) Fegely. Tom graduated from Southern Lehigh High School in 1959 and earned his Bachelor's (1963) and Master's degrees (1969) in education and the biological sciences from what are today Lock Haven and Kutztown Universities. He began his teaching as a biology instructor in Corning, N.Y. and served as the director of environmental education and ecology in the East Penn schools for 14 years.
In 1976, Fegely was named outdoors editor of The Allentown Morning Call and began making his full-time living as a writer, photographer, author and TV and radio broadcaster. For more than 25 years, his columns and photographs ran across the Associated Press wire and appeared in newspapers throughout the country. His columns and features focused entirely on hunting, fishing, birding, nature and personal profiles of outdoors people – including kids of all ages. He retired from the newspaper in 2001.
Tom also served as the Pennsylvania editor for Outdoor Life magazine for eight years and wrote the Woods-Wise column for Field & Stream magazine. He was on the masthead of Buckmasters, Whitetail Hunting Strategies, Whitetail News and Outdoor Adventurer and regularly wrote feature articles for North American Hunting magazine. Fegely also produced and hosted the weekly "Call of the Outdoors" show on NBC-affiliate WGAL-TV in Lancaster from 1980-1989. In addition, he produced "Escape to the Outdoors," a syndicated radio show which aired on over 400 stations in the Midwest and eastern U.S. daily. He also hosted and/or scripted seven deer, turkey and African hunting videos for King Video Adventures.
Among hundreds of awards bestowed on Fegely were four cherished Pennsylvania Associated Press Enterprise Awards. He was inducted into the Pennsylvania Turkey Hunters Hall of Fame in 1991 and named "Communicator of the Year" by the National Wild Turkey Federation in 2001. He was further awarded the Eastern Sports & Outdoor Show Outdoor "Youth Mentor Award" in recognition of his commitment to using his knowledge of the outdoors and outdoor sports to educate and help young people.
Fegely also received the "Distinguished Service Award" from Lock Haven University (1984) for his public-service work in promoting the outdoors to young people as well as the Lock Haven University Alumni Association "Distinguished Service Award" for youth and adult conservation education work.
In 2002, Fegely and wife Betty Lou received the first Pennsylvania Outdoor Ambassador Award from Pennsylvania DCNR, Pennsylvania Game Commission, Dept. of Community and Economic Development and Pennsylvania Fish & Boat Commission.
As a book author, Tom positively influenced thousands of sportsmen and youngsters. He authored 10 books (five for children). Four of the children's books were honored by the National Science Teachers Association. His most recent book, "A Guide to Hunting Pennsylvania Turkeys" appeared in December 2004 following "A Guide to Hunting Pennsylvania Whitetails", which was originally published in 1994.
Tom was a member of many organizations, including the Professional Outdoor Media Association (POMA), Outdoor Writers Association of America (OWAA), Southeastern Outdoor Press Association (SEOPA), Pennsylvania Outdoor Writers Association (POWA), National Rifle Association, National Wild Turkey Federation, Lehigh Valley Conservancy and others. Additionally, he served on several outdoor industry advisory boards.
Together, Tom and his wife Betty Lou have traveled to all but one U.S. state and have hunted, fished and photographed in Africa, Bulgaria, Costa Rica, six Canadian Provinces.
Tom is survived by: Wife, Betty Lou Fegely; Sons: Michael J. and wife Tammy of Huson, MT, Andrew J. of Walnutport; Step-daughter: Kelli Kostick and husband Michael of Northampton; Stepsons: Tim Hoats and Scott Hoats of Allentown, pre-deceased by Richard J. Hoats (Jamie) in 1991; Sisters: Jane Fegely of Emmaus; Carol Priest and husband Jeff of Emmaus; Grandchildren: Colton and Chase Fegely; Mason, Skylar and Aaron Kostick; Rachel, Nicholas and Emily Hoats; Nieces and Nephews: Deron and Dana Fegely; Adam Priest; Jenna(Priest) Ottinger; Aunt: Jeanne Faylor of Allentown and beloved canine companion Shiloh.
---
Celebration of Life Service
Services: Sunday, January 5, 2014, at the Bachman, Kulik & Reinsmith Funeral Home, 1629 Hamilton St, Allentown, PA 18102. Calling hours 1:00 to 2:30, followed by A Celebration of Life Service at 2:30.
In lieu of flowers, donations can be made to the Lewy Body Dementia Association 912 Killian Hill Road, S.W. Lilburn, GA 30047 or online at: http://www.lbda.org or Professional Outdoor Media Association (POMA) Foundation, P.O. Box 1569, Johnstown, PA 15907 (POMA) or online at: http://professionaloutdoormedia.org/node/762