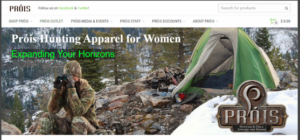 We are thrilled to announce that our NEW Prois website is now operational! After several months of work and re-work we are thrilled to offer efficient shopping experiences, enhanced speed and optimized viewing on devices. The new Prois website truly offers our customers what they deserve in a website- perfection!
Perhaps you are asking yourself, "What could be so fantastical on the new website?"
Perhaps you aren't.  But either way we are going to tell you!
New Prois Outlet showcasing all clearance and close out items in an easy to shop format.
New Shop By Hunting Prefrerence.  Are you shopping for your upcoming turkey hunt? Simply click our Turkey Hunting icon and you will be handsomely rewarded with a showcase of all of our preferred turkey hunting gear.
New Shop by Product Weight.  No longer will our customers be forced to pick through all gear systems to find the performance weight gear they require.  Simply click through our Baselayers, Light Weight, Mid Weight, Heavy Weight and Rain Gear options.
New Shop by Camo Pattern option.  In efforts to create a smooth shopping experience for our customers.  Looking for that perfect jacket in Realtree Advantage Max 1?  Now you can find it with the click of a button!
Streamlined processes for Pro-Staff applications, Pro Discount Program application, Membership Rewards sign-up and Donation Requests.
Live Chat!  Who doesn't love that??
Clean new blog with the most recent posts from our staff, our CEO and our Social Media Coordinator!
Prois has had a banner year in terms of show and event attendance!  Wondering where we will be next?  Simply click the EVENTS tab!
We hope you enjoy the clean new look of our website.  Go on over and take a gander!