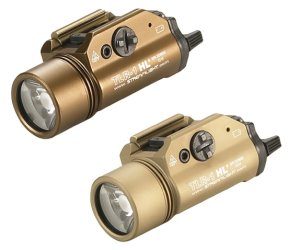 Streamlight, one of the most known names in high-performance lighting, has recently introduced two new colors for select TLR weapon mounted lights. The two brand new colors, Flat Dark Earth and Flat Dark Earth Brown, were introduced in response to a high consumer demand.
Streamlight Inc., a leading provider of high-performance lighting and weapon light/laser sighting devices, has introduced Flat Dark Earth and Flat Dark Earth Brown colors for select TLR® weapon-mounted lights, in response to consumer demand for these color choices in weapons and accessories.
The Streamlight TLR-1 HL® light is now available in both of the new colors. Additionally, the Streamlight TLR-6® is available in Flat Dark Earth Brown (model designed for use with Glock® 42 and Glock® 43 handguns only).
"We're offering these additional colors in response to the growing consumer trend to customize weapons and accessories using these colors," said Streamlight President and Chief Executive Officer Ray Sharrah. "As a leading provider of weapon lights, we want to be responsive to this need."
The TLR-1 HL is a lightweight, compact light which delivers 800 lumens.  It gives first responders and outdoor enthusiasts an extremely bright light in a flood-like pattern to easily reveal dark corners or perimeters.  The light is designed for a wide variety of tactical maneuvers, such as clearing a dark room or searching an alley, or other outdoor uses.
The TLR-6, the first light with an integrated red aiming laser for sub-compact handguns, is designed to maximize visibility and targeting capability in a variety of home defense and tactical applications. Offering 100 lumens and a 640-660 nanometer red laser, it attaches securely to the trigger guard of a variety of sub-compact handguns.
The MSRP for the TLR-6 in Flat Dark Earth Brown is $185.00. The MSRP for the TLR-1 HL in either Flat Dark Earth or Flat Dark Earth Brown is $248.68.
Each model comes with Streamlight's Limited Lifetime Warranty.
All rights reserved.  Glock® is a registered trademark of Glock, Inc.  Streamlight has not sought endorsement of this tactical light from Glock®.
About Streamlight
Based in Eagleville, PA, Streamlight, Inc. has more than 40 years of experience making tough, durable, long-lasting flashlights designed to serve the specialized needs of professionals and consumers alike.  Since 1973, the company has designed, manufactured and marketed high-performance flashlights, and today offers a broad array of lights, lanterns, weapon light/laser sighting devices, and scene lighting solutions for professional law enforcement, military, firefighting, industrial, automotive, and outdoor applications. Streamlight is an ISO 9001:2008 certified company.  For additional information, please call 800-523-7488, visit www.streamlight.com or connect with us on www.facebook.com/streamlight; www.twitter.com/Streamlight; and www.youtube.com/streamlighttv.