Rooms in the POMA hotel block are getting limited – and although the special POMA room rate has expired, there are a few rooms left at the host hotel. Register now for POMA's 12th Annual Business Conference, and make your hotel reservations to get the special POMA conference attendee room rate. Media members and Corporate Partners are already registering – join them in making plans to attend!
This year we're utilizing a new event management software to enhance your conference registration and information gathering experience. From user-friendly website navigation to mobile-friendly responsive design, this new software makes registering easier than ever. 
Hotel reservations are now being accepted. Reserve rooms now, to take advantage of the special $99+ tax per night room rate.
POMA 2017 Business Conference
Shreveport, Louisiana
June 13 – 16, 2017
#POMA2017
Quick Links 
---
Build Your Business
POMA's annual conference is known as "the" must-attend event for outdoor industry professionals. We are confident that the Shreveport, Louisiana event will continue that tradition of excellence. This year the core days shift to Tuesday through Friday to adapt to more attendee's schedules. As with every conference, attendees will still enjoy:
Cutting-edge educational business sessions
High-caliber speakers and presenters
Product Showcase, POMA Camps, and Shooting Day – POMA's content gathering and hands-on product testing events, with impressive locations set for POMA Camps and Shooting Day
Networking events and gatherings to help members make connections, build relationships and work together to grow their businesses
Shreveport-Bossier hospitality – The Shreveport-Bossier Convention and Tourist Bureau will treat attendees to an exciting Welcome Event on Tuesday night, to officially kick off conference. Hilton Shreveport is the host hotel, offering beautiful accommodations and first-rate service. It is connected to the Shreveport Convention Center, which is the main conference location for events including sessions, meals, networking gatherings, and the annual Awards Dinner and Auction, where our best communicators are honored and there's the chance to grab great auction items.
Special room rates for POMA conference attendees of $99+ tax
 Check the conference website for complete details – updates are made frequently as conference draws closer.
---
Registration Tips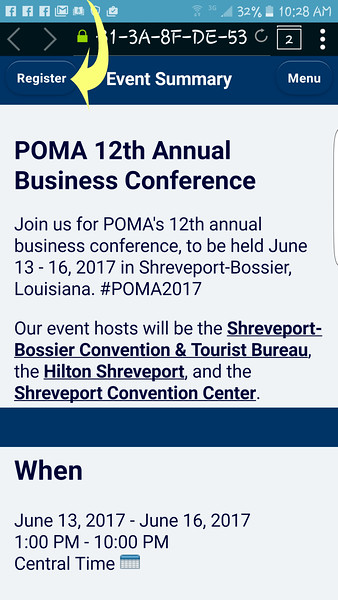 The online form is intuitive and designed to offer a smooth registration process for media and individual members and guests, Corporate Partners and additional representatives, and guests.
The mobile experience is fully responsive and offers an easy registration alternative for those on-the-go. While the software offers a great mobile interface, it's not magic and does have some limitations. Users who register on a mobile device will need a computer to:
View images
Register on behalf of someone else
Modify registrations
Use the "Add to Calendar" link
View answers on the confirmation page
---
Important Links
Together, We're Doing Great Things!
Save
Save
Save
Save
Save
Save
Save
Save
Save
Save