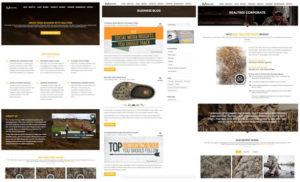 Realtree
, a commonly known name in the outdoors, has recently announced the launch of their all new business site. The new
Realtree Business Site
will help businesses navigate the outdoor industry and will offer ways to reach new levels of marketing and sales efficiency. Check out the new
Realtree Business Site
today.
Realtree® announces the launch of the all-new Realtree Business Site. Realtree's marketing experience and industry expertise are assets we want to share, and that is where this new website comes in.
The Realtree Business Site is a great tool for helping businesses navigate the outdoor industry. The site's many assets offer opportunities to reach new levels of sales and marketing efficiency. Advanced, responsive design helps readers find information quickly.
At business.realtree.com, find tools such as:
The Business Blog, which keeps readers informed about strategies for success
Research results to help understand the ever-changing market
New product information so you can keep up with industry trends
Case studies showcasing creative ways to benefit from Realtree's powerful marketing machine
Networking opportunities with our other licensing and retail partners
Realtree has come a long way since introducing our first camouflage pattern in 1986. Our patterns are now found on 18,000-plus products and sold in nearly 36,000 retail outlets. We hope you will visit the Realtree Business Blog and either ramp up your partnership with Realtree or become a new partner today. Please reach us through the "Contact" area of the site.
About Realtree:
Realtree is the world's leading camouflage designer, marketer and licensor with over 2,000 licensees utilizing the Realtree camouflage brand. Thousands of outdoor and lifestyle products are available in Realtree camouflage patterns. In addition, Realtree is committed to supporting individuals and groups that work to ensure our outdoor heritage, the conservation of natural places, and the wildlife that resides there.