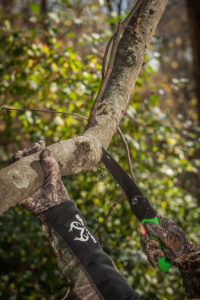 COLUMBUS, Georgia, June 28, 2016 —  Part of Realtree's newly expanded EZ Hanger Line, the EZ Folding Saw makes quick work of clearing brush while cutting trails, prepping trees for hanging trees stands and cutting material for ground blinds.
The EZ Folding Saw's specially engineered blade locks closed and the rubber handle provides comfortable use. The saw's foldable design makes it perfect for packing in to your setup. Convenient and easy to use, this foldable saw is a pack essential for every hunter.
Visit your local retailer to purchase this handy saw.
Contact: Dodd Clifton
Phone: (800) 992-9968
Email: pr@realtree.com