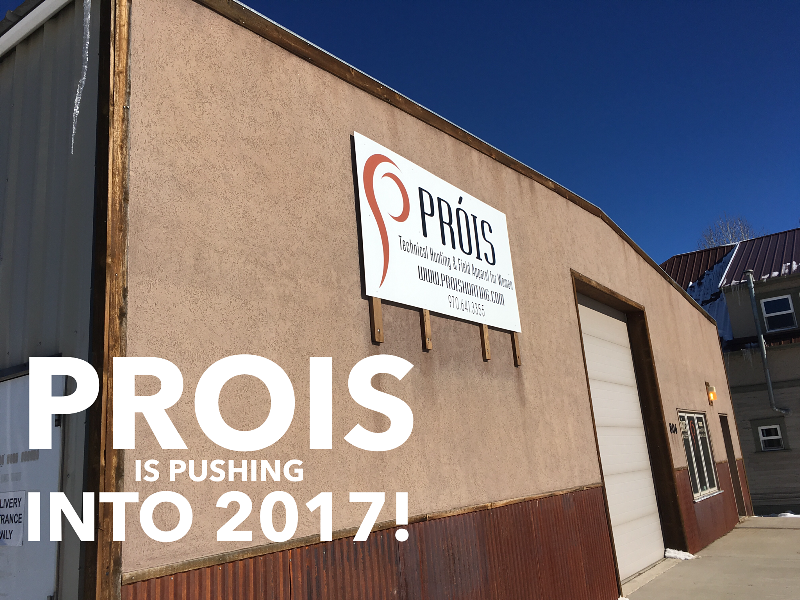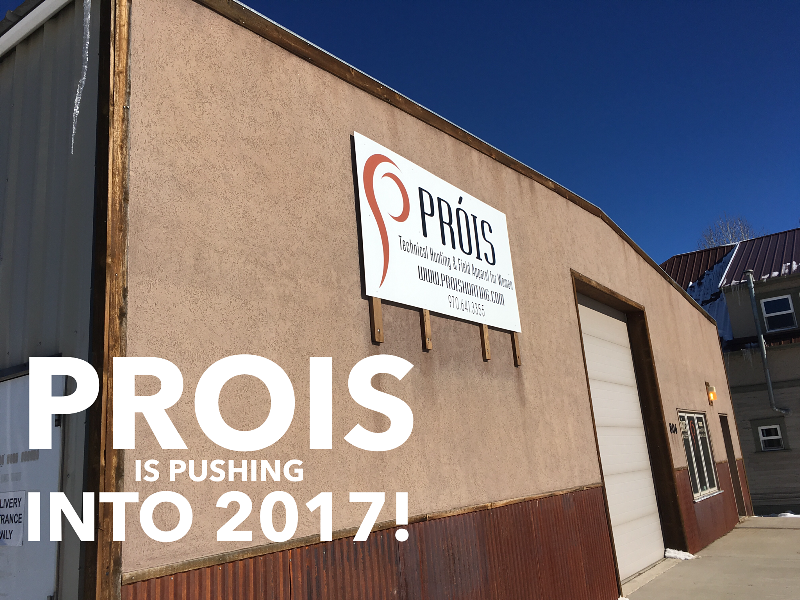 While it would appear that Prois is solely a world of shenanigans and tomfoolery, we have been busting our tails wrapping up 2016 and pushing forward to 2017.  As we push into our ninth year of business it seems we are far from slowing down.  We are continuously pushing new boundaries, revising old ideas and finding new visions.  So, just when you think we are merely kicking around the Prois digs taking pictures with Bunbun and galavanting around parts unknown hunting…we are truly focused and pushing into 2017
Product development is one of the number one priorities.  While it would appear to be simple from the outside looking in, it is actually time consuming and involves a lot of attention to detail.  And a heck of a lot of patience!  We have a number of great new products in the pipeline for 2017.  Eight to be exact. We base half of our manufacturing out of California and keep machines running constantly there.  Additionally, we work with Hadley Development out of Wichita for our more technical items.  Our design team works closely with theirs to fine tune fit, function and fabrics.  We will be flying out next week for another meeting to fine tune our 2017 line up.  This is a labor of love as we will not approve any product until we have determined it to meet the Prois expectations.
Sales generation is at the forefront this time of year.  Katherine Grand, the Prois Sales Manager, is working hard on all fronts to build and enhance our Proform Program, Outfitters Program, Amazon sales and dropship programs.  We are working hard on generating increased volumes through our online sales and catalog sales.  Additionally, we dig into many grassroots sales efforts through our State Coordinators.  Our team is running fast.
Show season is literally right around the corner.  We have been working intensely on renovating our logistics to enhance efficiency. We have a very heavy show schedule this year and we are adding more daily with the help of our Prois State Coordinators.  While we at the corporate office will attend the national consumer shows, our state coordinators will jump in to assist Prois at the state and regional levels, allowing us to get a broader grassroots reach.  Our show season tends to be a gauntlet but we believe this is where we need to be…face to face with our customers.
Website renovation has been a priority this fall.  We have rebuilt the entire site to not only offer a cleaner and more efficient shopping experience, but we have also been working to add valuable plug ins and new features to the site to provide optimal information.  We have added 'in house' IT personnel to help Prois maintain a high level of function and excellence for our website.  We are thrilled to have this service available to us.
Marketing efforts are managed between myself and our Social Media Coordinator, Mia Enstrom.  While Mia manages the social media content and outreach efforts to organizations such as Becoming an Outdoor Woman, I focus on the overall marketing and media plan.  This includes the 2017 Marketing Schedule plan, presence in the outdoor media groups, writing and working with industry writers for presence in industry publications.   We are running full-tilt into the show season.
Of note, we have recently renovated our entire order entry process which has streamlined all of our shipping and inventory.  Prois Shipping and Inventory Manager, Hannah Hanson has also been working diligently to fine tune our inventory flow and our overall processing.  Her attention to detail has reduced work and improved our efficiency greatly. Additionally, she looks forward to her annual inventory count at the end of the year.
Our crazy band of Pro, Field and Hunt staff ladies are indeed a force to be reckoned with.  These ladies work hard to promote Prois in all they do and we are so happy to have them all on our team.  We continue to build this network of women in an environment that is fun, supportive and non-threatening.  Katherine Grand works to manage this program through communications, incentives and a lot of laughs.  Without the Prois sisterhood, life would be quiet.  And boring.
So with that, we are pushing into 2017.  We are working toward a banner year!
This also means that if we don't return a text immediately, we actually ARE working!  You know who you are!