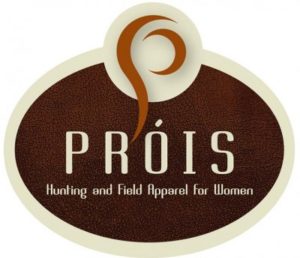 Proís is leaving retail behind to pursue a direct-market strategy. Here's why.
Thanks to factors both large (a changing global economy) and small (the hurdles of selling a niche product), longstanding relationships between retailers and manufacturers are being tested in every industry. Among outdoors manufacturers, companies like Maven, Kuiu, and Proís are leaving retail sales behind in favor of marketing directly to their customers. Kirstie Pike, CEO of Proís, has some insights on why the retail relationship ultimately didn't work for her company, and why Proís is heading for the door.
"The retail market just didn't work for us.  The numbers of female hunters, while growing, is far from substantial overall.  We are talking 13%.  We worked hard to figure ways to help with retail merchandising, incentive programs and at the end of the day, we had to crunch the numbers.  We realized that we actually do a better job by ourselves.  The reason;  No one loves Prois like we love Prois!  It was just time to take things in house and restructure." Pike notes.
And restructure they did!  In 2016 Prois announced its withdrawal from the retail market and a restructuring to a direct sales model.  According to Pike, here are the benefits for this dramatic move;
"The benefits definitely outweighed the drawbacks:
1.  Reduction in co-op fees, chargebacks, bargain cave sell outs and affiliate sell outs.  These all combine to further cut my profitability and create sale avenues that undercut not only me but other dealers as well.
2.  Flexibility in margins so we can offer more creative incentive purchase programs such as outfitter programs, Membership Rewards programs, Pro-Programs, Pro-Staff and Incentive discounts. All of these programs increase our grassroots efforts, build brand loyalty and enhance sales.
3.  Higher margins per unit.
4.  Control of my inventory.  As a smaller manufacturer, I can control where my inventory goes and it allows me to actually go back to running smaller runs of inventory which saves my cashflow.
5.  More diversity in products.  This goes back to number 4…with smaller runs I can offer more product which helps me stay relevant.
6.  Direct control over my customers.  I have their information and know where our sales are actually going.  With large purchases from big box model stores, we don't know where exactly our sales are going regionally.  This helps with marketing and show scheduling.
7.  Better customer service.  We love our product more than anyone.  We want our customers happy and can offer the best customer service and increase dedication to the brand.
8.  For Prois…our following is crazy and that network sustains us.  If we can have direct contact with our customers, it helps us increase social media following, brand excitement and staff building.
9.  We don't have to worry about merchandising and poor sales staff education…both of which were the bane of my existence.  Stores would often merchandise my product on the same rack as camo lingerie and sparkly tshirts. While these are great products, this is not the best way that a high end product can be moved effectively.  Additionally, despite all of our attempts to get out and educate sales staff…it just couldn't happen. Again, this is not at all finger pointing at retailers!  Retailers have MANY products to manage and mine would be a very small drop in the bucket.  We fully realize this.
10.  Purchasing trends are changing.  Think about how you shop.  People are going online.  Looking for the best deal.  And let us not forget Amazon.  Personally…when I shop, I research what I want…then buy it on Amazon.  Free shipping and lower pricing is the driving force.  I rarely go into a store to browse.
11.  Freedom to run sales.  Always a good thing.
12.  Reduction in costs due to merchandising swag, sales education and store specific marketing.
13.  Show cost reduction.  By the time I pulled out of SHOT, my booth cost $16k.  Ridiculous.  By cutting SHOT, ATA and all of the buyers groups shows I saved $82k.  I have regrouped for the consumer shows for less than half of that.  And…I actually obtain cashflow and marketing opportunities out of the consumer shows.
14.  More focused marketing efforts.  We can focus on the direct avenues that reach our customers.  Our grassroots reach has extended it is what really charges the business."
While Prois has pulled out of the retail market, they still continue conversations with dealers who are interested in carrying the Prois line.  "We will take on a dealer but we let them know up front that we are now running under a direct sales model and that we could essentially be competing with them.  We don't offer terms anymore and request prepayment for any order.  Some dealers are completely fine with all of this.  We just feel it is extremely important to be honest up front." Pike continues.
So where can you find Prois these days?  
www.proishunting.com
 is their website. Should a customer have any questions about product, layering or sizing, a quick call to their offices at 970-641-3355 is a great way to get the best information.  The company will also be attending an expanded amount of consumer shows over the year!
Are you an outfitter, media,law enforcement, military or industry employee?  Contact us about our Pro-Program by emailing Katherine Grand at katherine@proishunting.com.