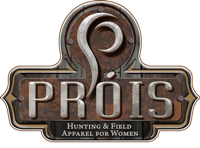 Prois has long been deeply rooted in the conservation and management efforts aimed at our wildlife and public lands. With ties to the Mule Deer Foundation, National Deer Alliance, Colorado Mule Deer Association, Wild Sheep Foundation and SCI, Prois puts conservation first.
This is why the current partnership between Prois and the Congressional Sportsmen's Foundation is a perfect fit. "The work done by CSF with Congress, state governors and state legislatures has made huge advances in the hunting, shooting, angling and trapping arenas. " Reports Kirstie Pike, CEO of Prois. "We are excited to work with CSF on upcoming events as well as help advance the role of women in terms of involvement in the outdoor industry and conservation efforts nationwide."
The Congressional Sportsmen's Foundation has been involved with policy advances for sportsmen and women in Washington, DC, and across the nation for over 25 years. Their work focuses not only on federal policies and initiatives, but on each and every state level. They have been a key driving force in overseeing the future of public lands, fisheries and hunting/shooting in the United States and their work is absolutely necessary for future generations of hunters, anglers and shooters.
Additionally, the partnership offers a win-win opportunity for CSF. "One of the important issues we work on at the Congressional Sportsmen's Foundation is recruitment and retention of sportswomen. Prois develops technical gear that women need for their hunting pursuits, therefore expanding their opportunities to hunt," said CSF President Jeff Crane. "We look forward to working with this specialty company on expanding the number of female hunters by providing them with the tools they need."
You can keep up to date on federal legislative issues as well as issues in your state by linking to www.sportsmenslink.org. Additionally, you can sign up to receive weekly updates from CSF via their website.
Prois is a Colorado based company and maintains the leading edge of women's hunting and shooting gear and has for nine years. Prois is owned and operated by women. Check out their full line of gear from head to toe at www.proishunting.com.
For more information; contact Prois at 970-641-3355 or email info@proishunting.com.