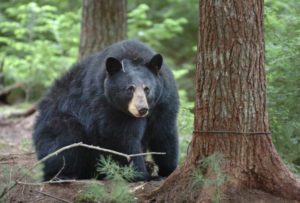 POMA Corporate Partner the U.S. Sportsmen's Alliance and several partners have come together to fight the efforts of anti-hunting group the Humane Society of the United States (HSUS).
Nationwide, animal rights and anti-hunting activists are fighting like never before to eliminate our hunting heritage. This year, they've taken their fight to Maine in hopes of banning the most common methods of bear hunting. But, the targets of their efforts go far beyond bear hunting and Maine's borders.
HSUS already has contributed more than $1.5 million to bankroll the bear-hunting ban in Maine. This is a direct attack not only to hunting but on the scientific management of our nation's wildlife. Anti-hunters view this as the first step to their true goal: banning hunting nationwide.
Attacking hunting in the state of Maine, with its rich and storied outdoor traditions, is alarming and signals to sportsmen and women everywhere the HSUS is not afraid to fight for its radical agenda. The time to act is now. We must protect our hunting heritage as well as proven, scientific methods of wildlife management.
What can you do to help? You can join the U.S. Sportsmen's Alliance along with its partners, Smoldering Lake Outfitters and Adrenalin Junkie in this fight by donating today. In return, get a chance to win one of two great hunts!
Your $10 contribution will help save Maine's bear hunt and show the anti-hunters that sportsmen from across the country are united in protecting our heritage, no matter where they live.
One winner will join famed bowhunter Ray Howell on a weapon of choice, three-day, south Texas whitetail hunt at the Catarosa Ranch about two hours south of San Antonio. The hunt is all inclusive, except for travel to the ranch, and includes the taking of a 150-class whitetail.
The second winner will join POMA Media Member, founding board member and outdoor legend Jim Zumbo for a three-day Maine turkey hunt. Maine is an often overlooked destination for turkey hunters and offers the latest season in the U.S.. This fully-guided turkey hunt includes all licenses, meals, and lodging. Winner is responsible for their own travel.
Are you ready to fight for your rights and those of hunters everywhere? Enter the hunting sweepstakes.  Review the sweepstake rules.
Read more information about the important work of the U.S. Sportsmen's Alliance. For more information about bears and bear hunting in Maine visit www.SaveMainesBearHunt.com.
Contact:
Evan Heusinkveld
U.S. Sportsmen's Alliance
eheusinkveld@ussportsmen.org
(614)- 888-4868