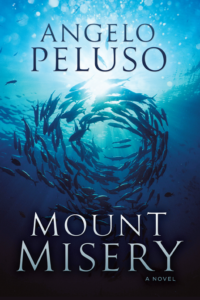 Mount Misery, a science fiction, mystery/thriller by POMA member Angelo Peluso is set in the area of the Long Island Sound and has a fishy plot. Random attacks by unknown creatures with a taste for human flesh are terrorizing residents. Initially, the sound-dweller's savagery and penchant for human blood went undetected. 
Marine biologist Katie DiNardo and ichthyologist Nick Tanner witnessed the damage caused by the mystery creatures but are at a loss as to the identity of the attacking species. As they research, people are dying and there's no saying when the terror will end.
In a style similar to Jaws, Mount Misery grips readers on page one and doesn't let go. Fans of horror and science fiction will rejoice at Mount Misery. Readers also will enjoy the throwback style that made the genre what it is today.
From Skyhorse Publishing, Mount Misery is available at all major book outlets and online. It's also available in print, as an e-book and audio book. Signed and inscribed copies are available directly from the author.
Angelo Peluso has fished the length of the East Coast of the United States as well as other U.S. destinations, the Yucatán, Bahamas and Canada. He is a frequent contributor to numerous local, regional and national magazines and writes weekly fishing and outdoors column. He's also authored four fly-fishing books: Fly Fishing the Surf (Skyhorse Publishing, NYC 2012), Saltwater Flies of the Southeast and Gulf Coast (Amato Books, Portland Oregon, 2012); Fly Fishing Long Island (WW Norton/Countryman Press, NYC, 2007); and Saltwater Flies of the Northeast (Amato Book,Portland Oregon, 2006)  He also crafted an outdoor-themed children's book in 1998.