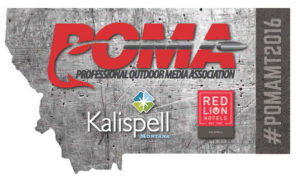 POMA's 11th Annual Business Conference in Kalispell, Montana is now just a couple of short weeks away, and we're looking forward to seeing everyone there. Now is the time to start thinking about shipping your items so that arrive at the hotel within the delivery window.
Please follow the instructions below, to ensure that your packages are routed properly, and waiting for you when you arrive.
Auction donation shipping instructions are also below. If you're donating a firearm, please be aware that we cannot accept shipments of the actual firearm. We use a certificate system, which the winner will redeem after the event. You can send the certificate to POMA staff, per the instructions below.
Shipping Instructions: All packages, for CP Events and auction, should be shipped to the Red Lion Hotel.
1.  Packages should arrive at the hotel between June 8 and June 10, 2016. POMA will have all boxes received sorted by manufacturer and/or event.
2.  POMA highly recommends all shipments be made using a track shipment option. POMA cannot track packages or be responsible for shipments. If you want POMA to have a backup copy of the tracking number, please enter the email address pomaship@gmail.com, when creating shipments.
3.  POMA will sort boxes and open if necessary to determine contents for proper sorting — and will have boxes/product ready for CPs to pick up on-site.
4.  Return shipping from the hotel is available. Boxes must be delivered to the designated POMA area packed, taped, and with a pre-paid return shipping label. A UPS and FedEx pickup will be made at the hotel on Monday after conference.

Auction Donation Shipping
To ensure proper routing of your donation, please:
♦ ship packages to arrive between June 8 and June 10, 2016
♦ label your packages as shown below, and include "Auction" in the address
♦ use a company that provides tracking information, so that you have verification of delivery. If you'd like to send POMA the tracking numbers, you can email them to pomaship@gmail.com
♦ If you are donating a firearm, or other item that will have a certificate of redemption, please email a certificate to admin@professionaloutdoormedia.org.
Labeling of Packages: Every shipment must include this line: Attn: POMA (and event name, i.e. Auction, Product Showcase, POMA Camps)
Red Lion Kalispell Center Hotel
Attn: POMA Conference (Event Name-Company Name)
North 20 Main, Suite 150
Kalispell, Montana 59901
Hotel Phone: (406) 751-5050
POMA Staff:  Staff leaves for conference on June 8, and we will have very little access to email throughout conference. On-site, find staff at the POMA Conference Office, in the Glacier room at the Red Lion Hotel.
Travel safely to Kalispell, and we'll see you soon!