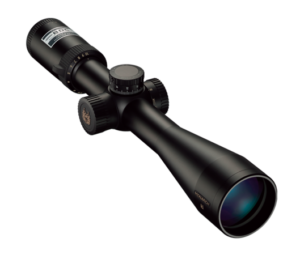 Nikon introduces the all new MONARCH-7 riflescopes just in time for the 2014 season.
Nikon has announced the all-new MONARCH 7 riflescope series for 2014, featuring a 30mm main body tube construction and dual bullet drop compensation technologies for total long range shooting versatility.
The new flagship MONARCH 7 riflescope is offered in two variants—a 2.5-10×50 SF and 4-16×50 SF—both with locking side focus for parallax free sighting.  Each riflescope also features Nikon's Custom XR Turret package along with a glass etched BDC reticle, providing shooters the option to either dial-in a particular distance on the crosshair, or to utilize the holdover points on Nikon's BDC reticle.
Nikon Custom XR Turret riflescopes allow custom matching of the distances inscribed on the elevation dial to the specific ballistics of virtually any cartridge, load and environmental conditions. This made-to-order elevation turret dial replaces the factory MOA turret that comes with the MONARCH 7 Custom XR Turret riflescope.  A voucher that allows the purchaser to custom order one turret is included with each scope, while additional turrets for subsequent calibers or loads may be purchased separately.
Nikon's Ultra ClearCoat® optical system that provides shooters with a bright, sharp and incredibly flat sight picture. These riflescopes are also waterproof, fogproof, and shockproof, and are covered by Nikon's limited lifetime warranty.
The MSRP for the MONARCH 7 2.5-10×50 SF is $849.95 and for the 4-16×50 SF model is $999.95.
Like all Nikon riflescopes, the MONARCH 7 line is optimized for use with Spot On Ballistic Match Technology. The Spot On program provides users with exact aiming points on the BDC reticle for any load or ammunition at a specified range.  Spot On is free online at spoton.nikonsportoptics.com but it can also be purchased for mobile devices, including the iPhone®, iPad® and Android™ platforms.
Nikon Inc. is the U.S. distributor of Nikon sports and recreational optics, world-renowned Nikon 35mm cameras, digital cameras, speedlights and accessories, Nikkor lenses and electronic imaging products.
For more information on Nikon's full line of Riflescopes, Binoculars, Spotting Scopes, Fieldscopes and Laser Rangefinders, please contact: Nikon Sport Optics, 1300 Walt Whitman Rd., Melville, NY 11747-3064, or call 1-800-645-6687. www.nikonsportoptics.com.