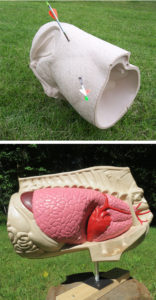 Every white-tailed deer, hunting-focused group or club interested in ethical shot placement and education is well served by a new product from the National Bowhunter Education Foundation (NBEF). Its a realistic 3-D whitetail deer anatomy form that teaches proper kill shots and shot placement and allow hunters to visualize shot penetration in 3-D.
After years of research and consultations with wildlife anatomists at several veterinary colleges, this 3-D form is this most lifelike sculpture of today's whitetail. One side is a natural-appearing vitals section of a deer. This section is pre-drilled to hold arrows and show placement of both broadside and 45-degree-angle shots.
The opposite side is where the model really excels for teaching and understanding. It offers a detailed, anatomically-correct sculpting of the full vital region. Full color and a separate scapula and humerus bone enhance the reality.
The NBEF partnered with Revolution Taxidermy to create this realistic teaching aid for hunter and bowhunter education instructors. The model is also beneficial in camp when discussing shot placement and as an aid in recovery.
"The NBEF is viewed as the authority on anatomy for white-tailed deer and several other species." says Marilyn Bentz, Executive Director. "This ultra-realistic 3-D model enhances that family of go-to products and is a great addition to the NBEF's charts, diagrams and videos."
The model also includes extensive graphs showing arrow trajectory at various heights when the target is broadside or quartering away. The display stand also is included. Purchase units from NBEF online.
About National Bowhunter Eduction Foundation
Bowhunter Education works hard every day to ensure the future of bowhunting. Each year thousands of committed volunteers donate time and money to Bowhunter Education throughout the world to create 60,000 newly educated bowhunters a year. The core curriculum remains standardized throughout all fifty states, Canada and numerous additional foreign countries. For more information regarding the NBEF or becoming an Instructor of the IBEP, please contact the National Bowhunter