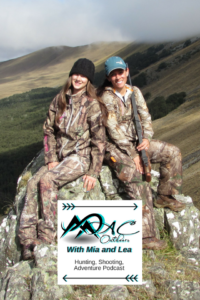 MAC Outdoors Podcast Joins Self Defense Radio Network
Mia and Lea, hosts of the MAC Outdoor Podcast, are proud to have joined the group of 2nd Amendment supporting podcasts at Self Defense Radio Network (SDRN). The pair celebrated their one year anniversary of sharing the evolution of an empty-nester mom and a first-year college student who both have a passion for sharing the outdoors, hunting, shooting, and life skills.
The MAC Outdoors co-hosts hope to learn from and collaborate with the hosts of other SDRN members shows. They plan to continue their journey as they explore, share, and provide tips to their listeners. Learn more about the ladies' show and the Self Defense Radio Network below.
The dynamic mother/daughter duo share their hunting, shooting, and outdoor adventures. You'll find tips, tricks, lessons, and tales from the trail. TUNE IN because you never know what obstacles and inspiration they'll encounter as they head outside for new adventures.
Mia Anstine is a mentor to many. She is a certified firearms and archery instructor as well as hunter education instructor. She strives to preserve our constitutional rights with a focus on freedom of religion and the right to bear arms. She is the first American woman featured on the cover of Field & Stream magazine. In addition to being a podcast host and contributor, she is a freelance writer, vlogger, guest host for various outdoor and hunting shows, plus she's a hunting guide. She is also a contributor to Armed Lutheran Radio.
Mia's daughter, Lea Leggitt, is a college student studying journalism and photography. She's an accomplished shooter, hunter, instructor, and guide. Lea competes in trap and sporting clays and has taken self-defense firearms courses. While Lea is busy chasing her goals in the outdoor industry she also follows wildlife, rodeos, and ranch life. Lea's ultimate goal is to share and encourage people to learn about country life, firearms, hunting and to take to the woods and enjoy it as much as she does.

We are excited to announce the latest addition to the SDRN family, MAC Outdoors with Mia and Lea. This fun, weekly outdoor adventure podcast features hunting guide and firearms instructor Mia Anstine and her daughter Lea Leggitt.
Mia has been a contributor to SDRN member, Armed Lutheran Radio, since 2016 and launched MAC Outdoors just over two years ago. She is a mom, hunting guide, writer, and vlogger from Colorado. Her daughter, Lea, also a guide, is a passionate young hunter in the first year of college. The two share their hunting, shooting, and outdoor adventures. You'll find tips, tricks, lessons, and tales from the trail.